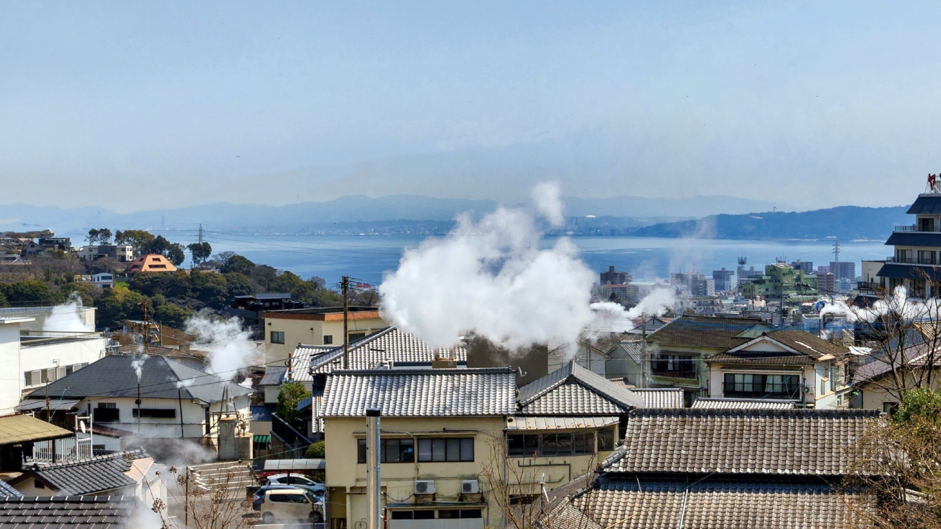 With the second-highest number of hot springs in the whole world, it's no wonder travelers call Beppu a hot spring paradise. Across Beppu's eight districts, 2000 hot springs and over 200 hot spring facilities can be found offering rejuvenating onsen baths. If you like the sound of soaking in hot mineral-rich water, then allow us to introduce you to Beppu Hatto.
What is Beppu Hatto?
'Beppu Hatto' is the collective name for the eight hot spring villages scattered across Beppu. Most of the area's famous hot springs center around these districts. Of the ten types of springs available in the world, seven of them can be found here.
Beppu has prospered as a hot spring town since ancient times and word of its heavenly hot springs goes back as far as the Heian period. The area saw major developments during the Edo and Meiji periods, namely the completion of the Beppu Hatto system which continues to this day.
Beppu Hatto: An Easy Guide
Each district of Beppu Hatto has its own special features. Make the most of your time in this idyllic hot spring town by visiting as many of these villages as possible.
Beppu Onsen
A must for beginners, Beppu Onsen is centrally located in the city near JR Beppu Station. Four types of hot springs can be found in this area: simple springs, carbon dioxide springs, chloride springs, and bicarbonate springs. Needless to say, a wide variety of hot spring resorts are available here, many with the atmosphere of a public bath. For those looking for a place to start, Beppu Onsen is an ideal first spot.
Hamawaki Onsen
Stretched along the coast on the southern part of the city, Hamawaki is said to be the birthplace of Beppu Hatto. This venerable town is home to old-fashioned inns and communal baths, carrying an enchanting atmosphere steeped in ancient history. Travelers who seek the more traditional side of Beppu must stop by Hamawaki, the oldest area on this list.
Horita Onsen
This picturesque hot spring village is situated in the mountains of Beppu with an abundance of thermal spring water. From this vantage point in the mountains, visitors can marvel at the scenery over valleys and rice fields. If you're looking for countryside serenity that leaves you feeling refreshed, pay a visit to these mountain springs.
Kannawa Onsen
One of Beppu's most unique districts, Kannawa Onsen is built on steaming ground. From a distance, many may confuse it for an industrial site, as the steam clouds hovering over the area are sometimes mistaken for smoke. Unlike smoke, however, this steam is highly beneficial for one's health. Kannawa is further out from the city center, but the special experience it offers makes it worth the trip.
Kamegawa Onsen
North of downtown Beppu sits the beachside Kamegawa Onsen. This hot spring village is perched on the idyllic coastline and is easily accessible from JR Kamegawa Station. This area is famous for its beachside hot springs and refreshing hot sand baths. One of Beppu's most popular locations, Kamegawa Onsen should not be missed.
Myoban Onsen
Just outside the city, you'll find Myoban Onsen, another favourite among tourists. This famous historical site is located in a mountainous region of Beppu, and much like Kannawa Onsen, hot steam rises from the ground towards the sky. The steam in Myoban Onsen is said to be great for the skin. Not only is alum collected in this region, it is also abundant with Yunohana, a skin-loving mineral with detoxifying benefits.
Kankaiji Onsen
One of Beppu's most popular tourist destinations is Kankaiji Onsen, and it's easy to see why. Sitting at a high altitude, this location is blessed with panoramic views of Beppu Bay, which many consider some of the best in Beppu. Plenty of large hotels and hot spring resorts can be found here, making it a perfect choice for families.
Shibaseki Onsen
Another of Beppu's most famous historical towns is Shibaseki Onsen, which was known to draw large crowds even as early as the Heian period. It is said that Emperor Daigo in 895 BC and Emperor Goreizei in 1044 BC used to visit Shibaseki Onsen to soak in its healing hot spring waters, as therapeutic then as they are today. When you're in the area, make sure to visit one of its most impressive hot spring attractions, the awe-striking Blood Pond Hell.
Beppu Hatto is far more than just a tourist destination – it's a hot spring wonderland. With the highest number of hot springs in the country, all travelers can bathe in a variety of thermal springs in different settings, each one with its own unique and fascinating history. Treat yourself to a relaxing vacation in Beppu and feel instantly renewed.
Comments are closed.