Rediscover your inner peace at Bettei Haruki, an adult-only ryokan on the outskirts of beautiful Beppu. At this serene hideaway, guests can listen to the quiet babble of the nearby river and witness the changing of the seasons on the trees in the garden. Enjoy our high-quality facilities and feel at home amidst Beppu's natural wonders.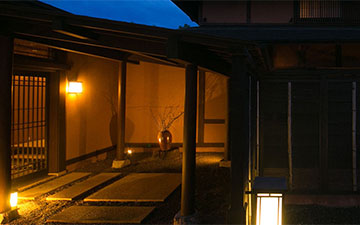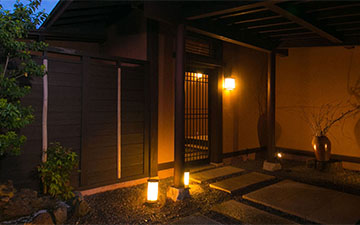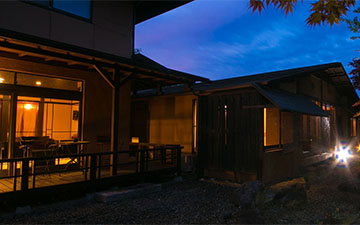 Entrance
The Haruki River meanders gracefully through Nabeyama and Ohirayama (Ogiyama) before flowing into sparkling Beppu Bay. Bettei Haruki sits peacefully on this bank. In springtime, the blooming cherry blossoms display their vibrant colours,surrounding our ryokan with an
enchanting blush-coloured beauty.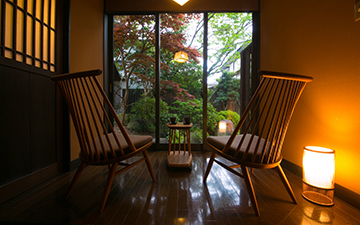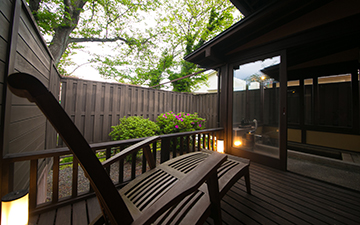 Garden
Stroll through Bettei Haruki's tranquil gardens, professionally designed by well-known architect Kei Matsuba. In this humble oasis, Japanese and Western designs are woven together to harmonise the best of both worlds.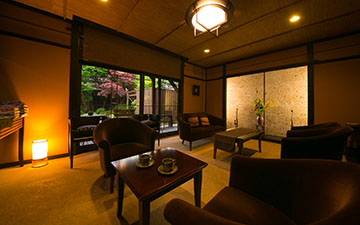 Lounge
Our elegant lounge is the perfect space for our guests to relax amidst luxurious design and a calming atmosphere. Herbal tea and fruit-infused water are also available
for all our guests.