Soak in the healing, mineral-rich water of Beppu's famous hot springs.
Heated naturally inside the earth, water flows directly from
the source into our private onsen baths.
Partake in the Japanese tradition of onsen-bathing
and awaken your senses to nature's gifts.
Nadeshiko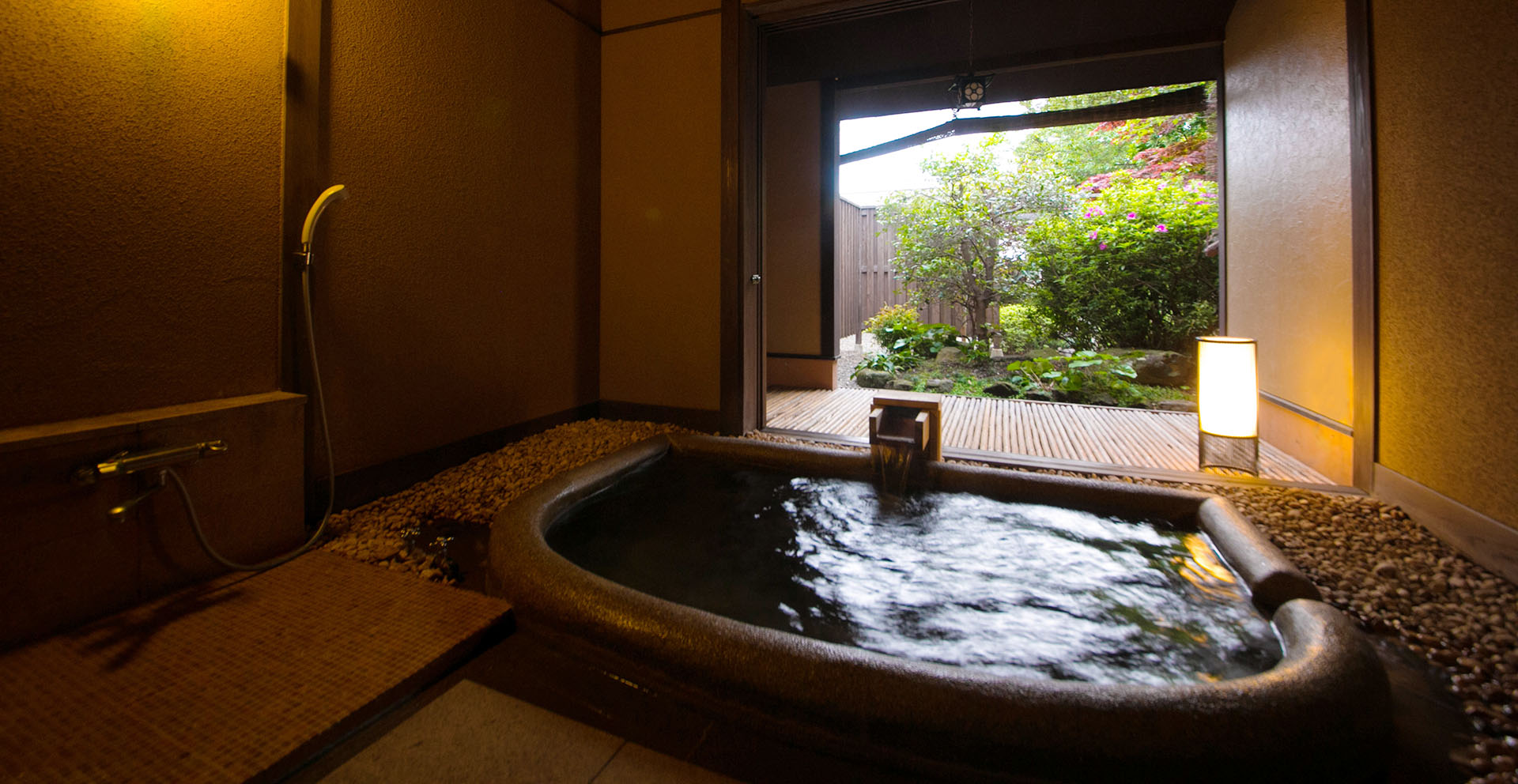 Stone Private Bath
As you relax in our Nadeshiko hot spring bath, gaze at the captivating garden views and admire the ever-changing colours of the season. Feel the strength of nature's healing powers as you soak in Nadeshiko's rejuvenating water amidst earth and steam. When it's time to cool down, rebalance the body's temperature on the charming veranda.

The term 'Nadeshiko' is used to describe the ideal Japanese woman and symbolises the epitome of pure, feminine beauty. 'Yamato Nadeshiko' is also the name for a frilled pink carnation, described as being so adorable that its beholder cannot resist stroking it.

Open Hours

Morning/7:00 – 10:00
Night/Until 23:00
Kikyo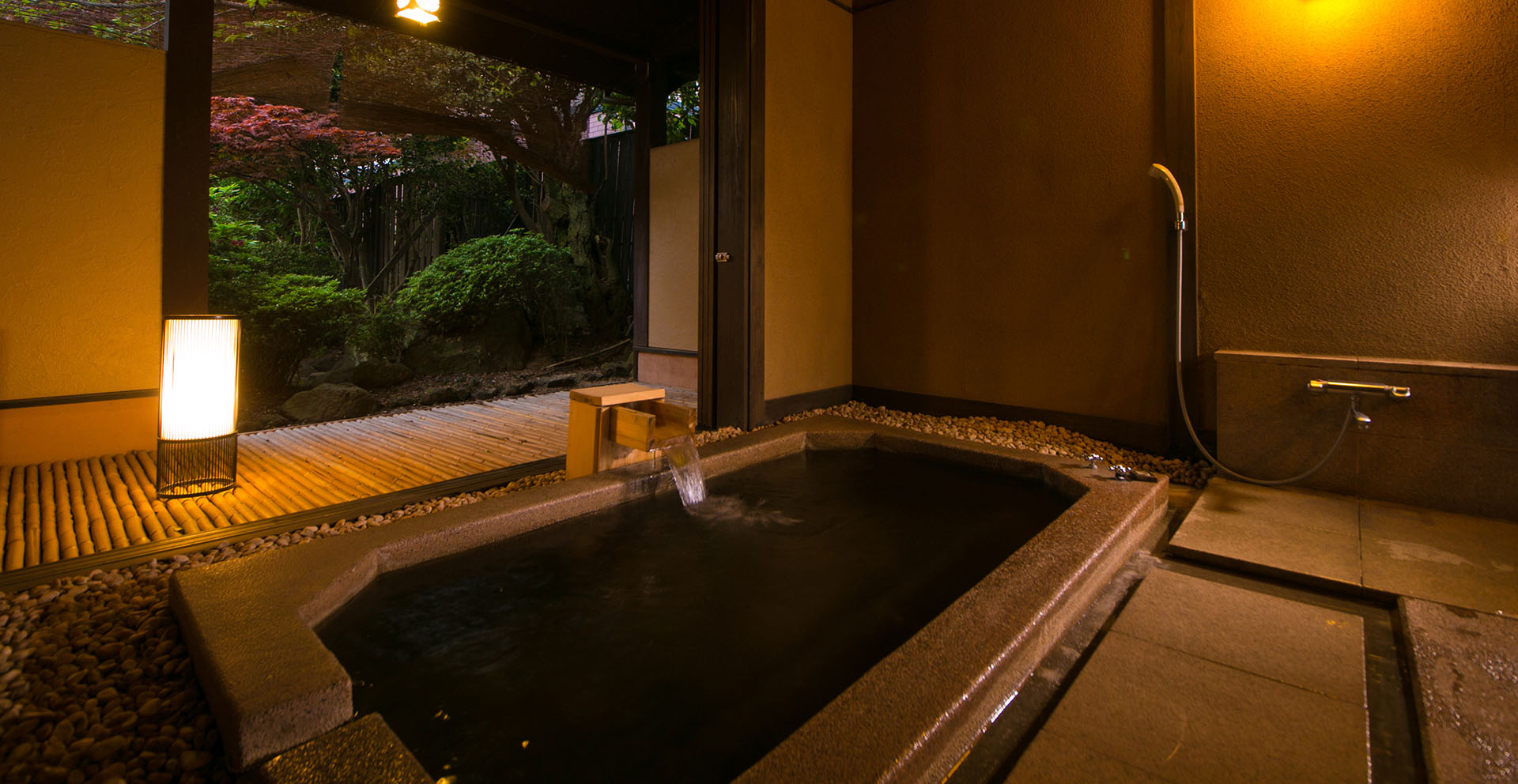 Stone Private Bath
Rejuvenate in Beppu's special hot spring water with a special person by your side. Our spacious Kikiyo stone bath can accommodate up to three adults at one time, so you can share this soothing experience with others. This luxurious space also includes a dressing room so guests can get ready with comfort. The name 'Kikiyo' was chosen for its similarity to 'Kikyo,' a special bellflower that exemplifies Japanese elegance.

Open Hours

Morning/7:00 – 10:00
Night/Until 23:00
Suzushiro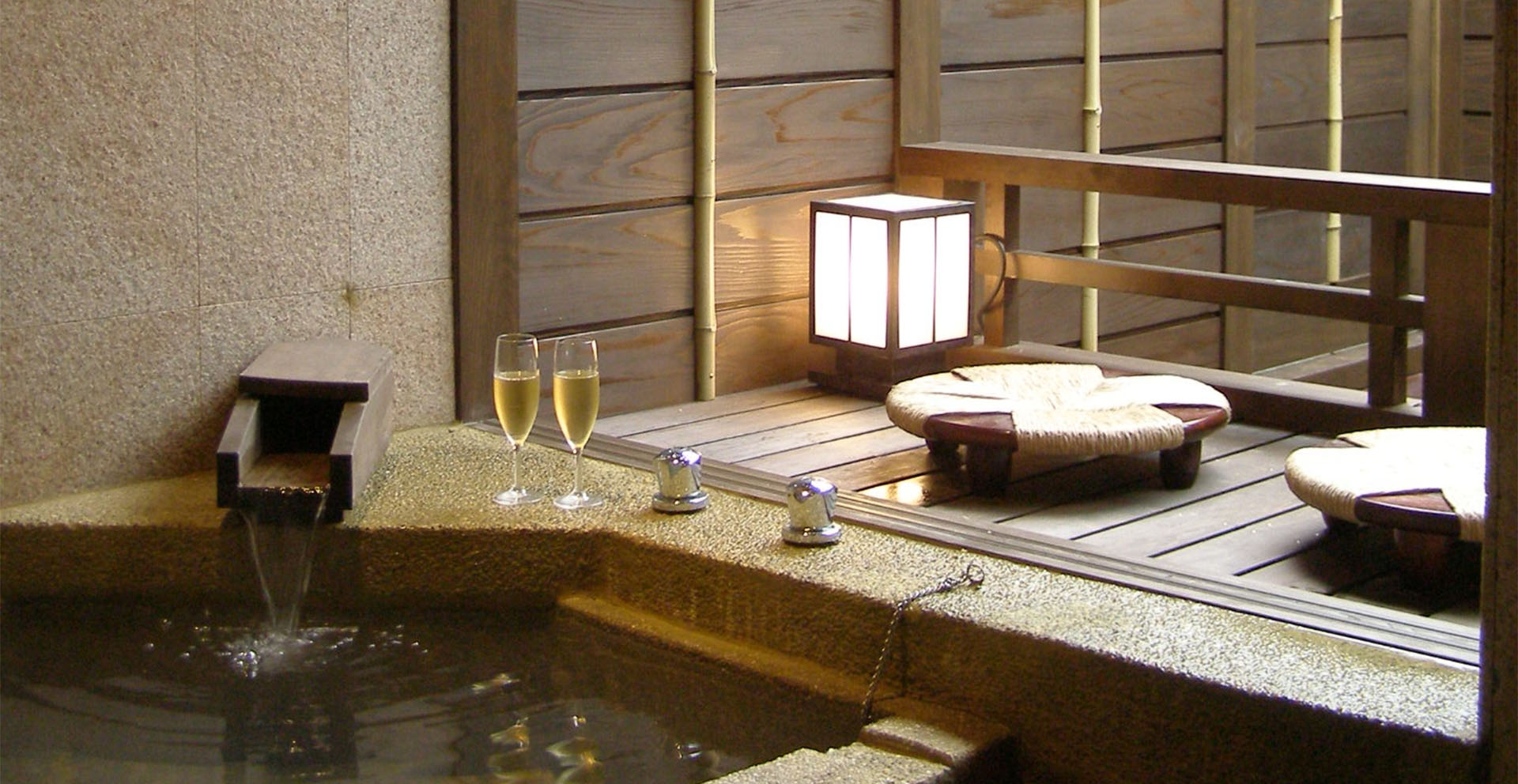 Stone Private Bath
In our Suzushiro hot spring bath, water flows straight from the source into a comfortable stone tub. Soak in the healing minerals for a moment of quiet bliss. The Suzushiro bath is an ideal option for those who seek a leisurely bath while a cooling breeze caresses the skin. Before or after your bath, enjoy the view from a bamboo veranda and take a deep breath of fresh air.

The Suzushiro bath takes its name from an ingredient in the Seven Spring Herbs, a traditional Japanese porridge served at the beginning of every new year.

Open Hours

Morning/7:00 – 10:00
Night/Until 23:00

Lounge
After a refreshing bath, guests are invited to cool down in a relaxing lounge.
Take a seat on the comfortable sofa and gaze out at the peaceful Japanese garden.
Herbal tea and fruit-infused water are available for all onsen guests.