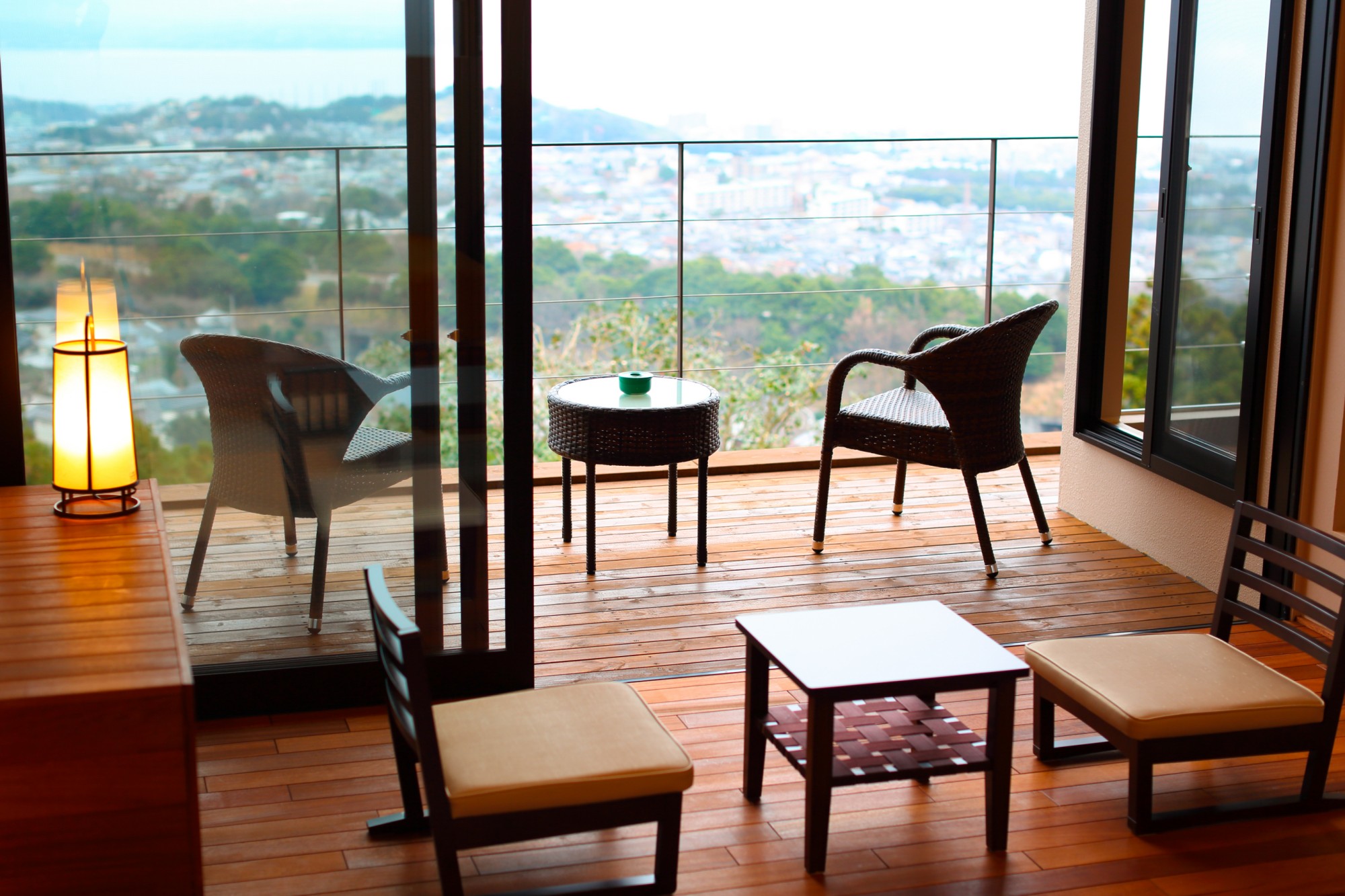 Situated on a quiet hillside in Beppu, Terrace Midobaru is a hot spring inn offering some of the most spectacular views of Beppu Bay. Recently, Travel Beppu stayed at this scenic inn, which is known to be very popular with residents and travelers alike. Praised for its state-of-the-art rooms, semi-outdoor hot springs, and high-quality gourmet meals, we saw it as an experience that was not to be missed.
A Sophisticated, Sleek Entrance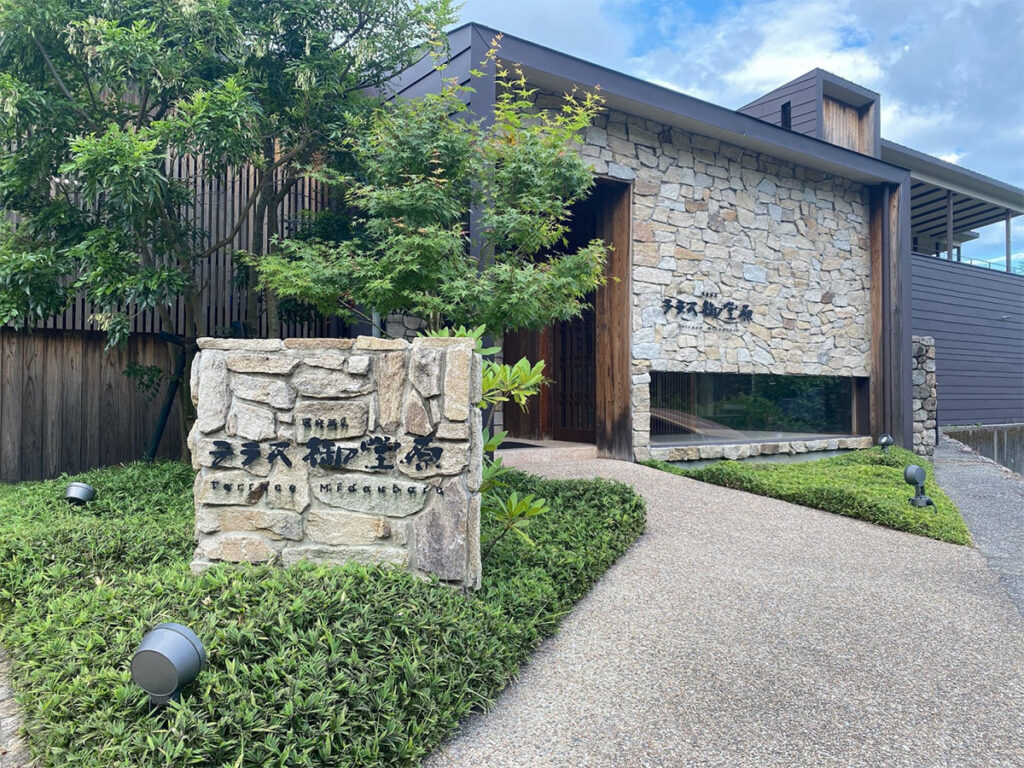 Even at the entrance of Terrace Midobaru, it becomes clear that this is a stylish inn. Surrounded by nature, one instantly feels calm and ready for a regenerative stay. Since it's in the mountains, the area is cool even in the summertime.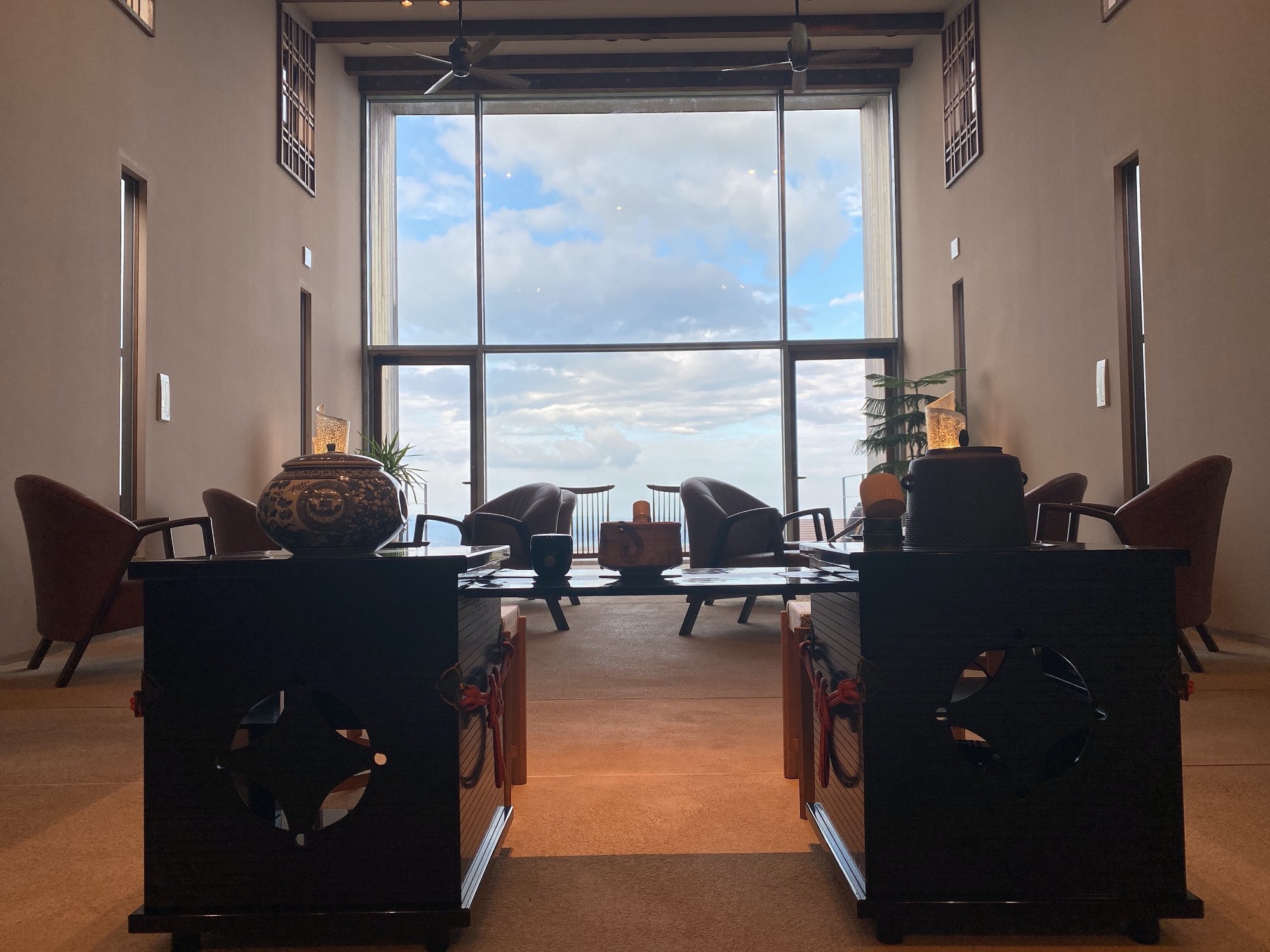 Step inside Terrace Midobaru and broad windows immediately come into view. The entrance and lobby feel spacious, airy, and relaxing. The view from this room is already captivating and one can see the steam of the hot springs rising over Beppu City.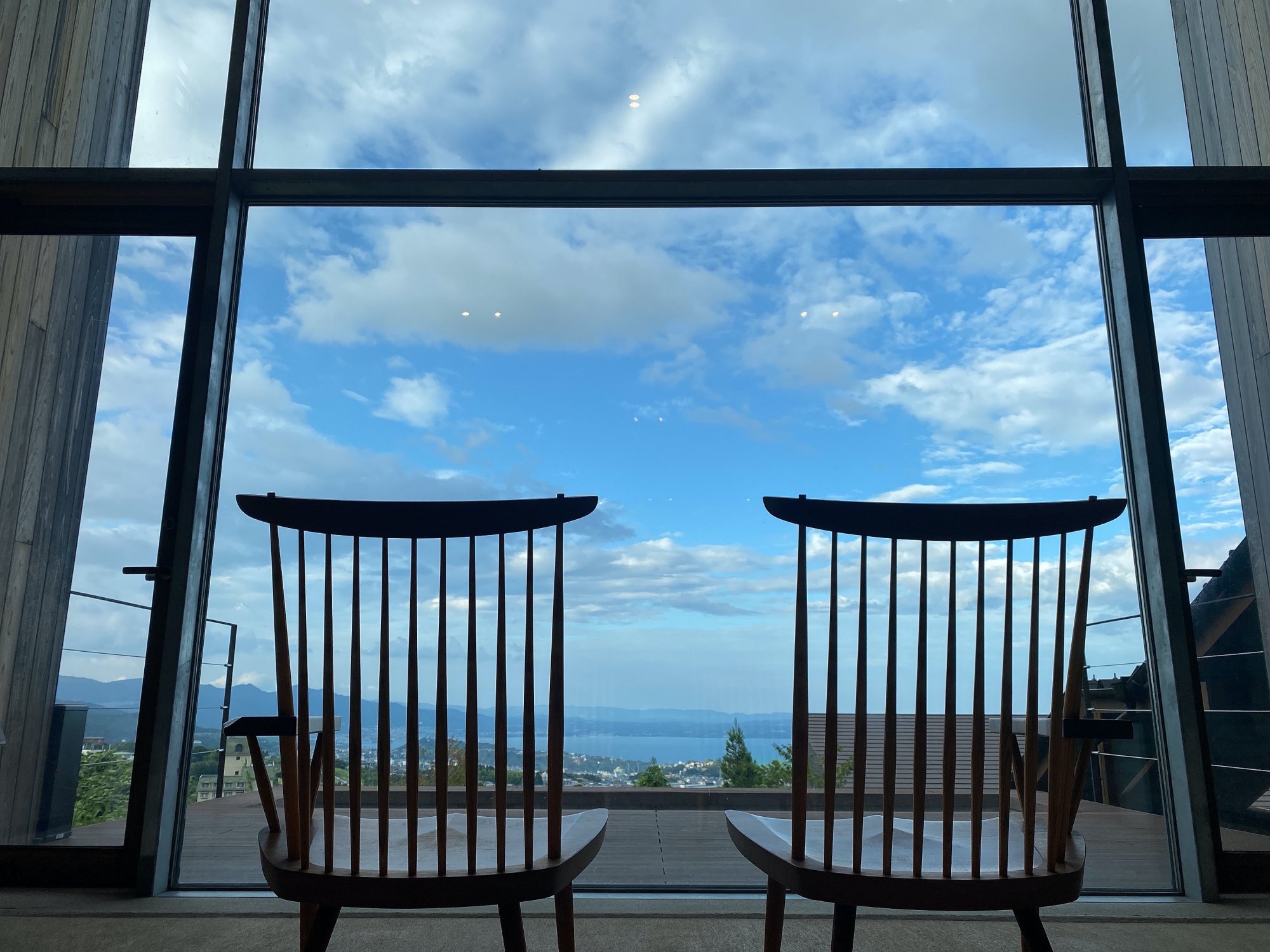 Guests are welcome to step out onto the terrace, a wonderful spot to admire the sunset or sunrise from.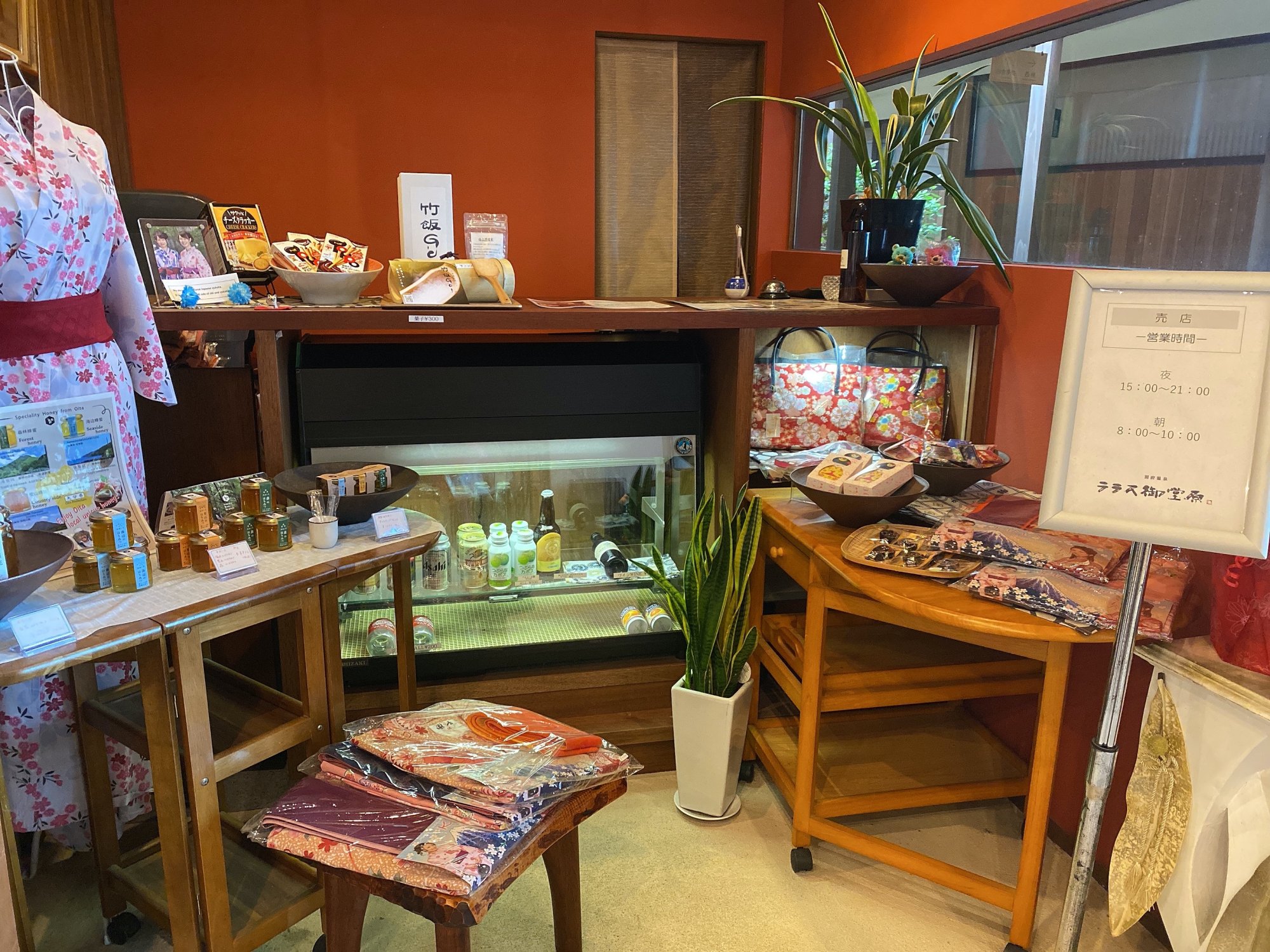 After entering, visitors will notice a shop to their left. Here, you can purchase a yukata, light meals, sake, Japanese accessories, and other Beppu specialties.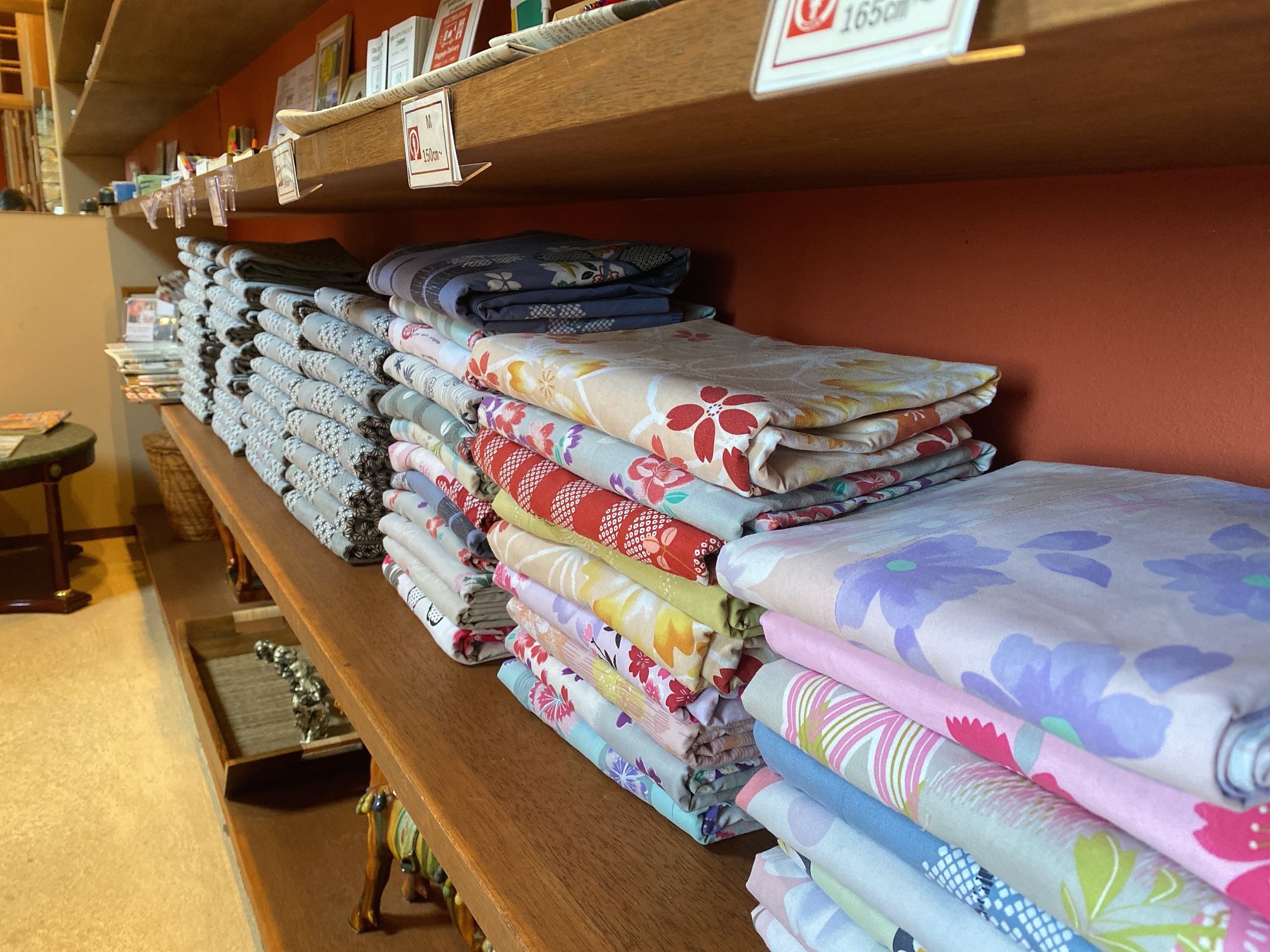 In the space behind the vending machine, guests can borrow a yukata for free. Find your own size and feel free to wear it as loungewear in the halls of Terrace Midobaru. There's a wide variety of colors and patterns for women to enjoy.
The entire area is open, spacious, and bright. It feels positive and relaxing – and this is before you've even seen your room!
Elegant Rooms with Captivating Ocean Views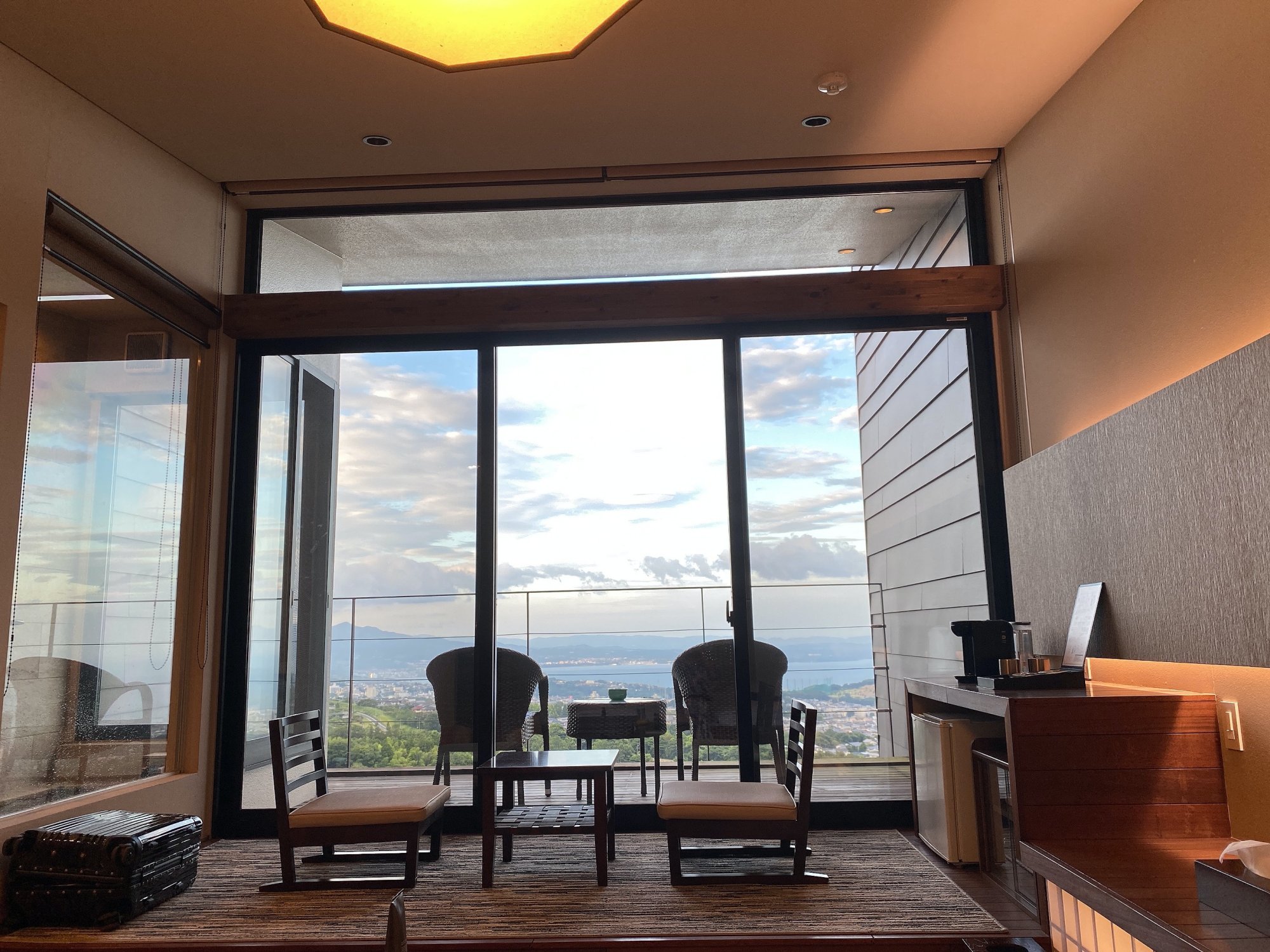 Travel Beppu stayed in a room on the second floor. After entering the Japanese-style wooden entrance, the beautiful scenery is already in view. The calm interiors are delightfully modern but clearly inspired by a Japanese aesthetic and classic elegance.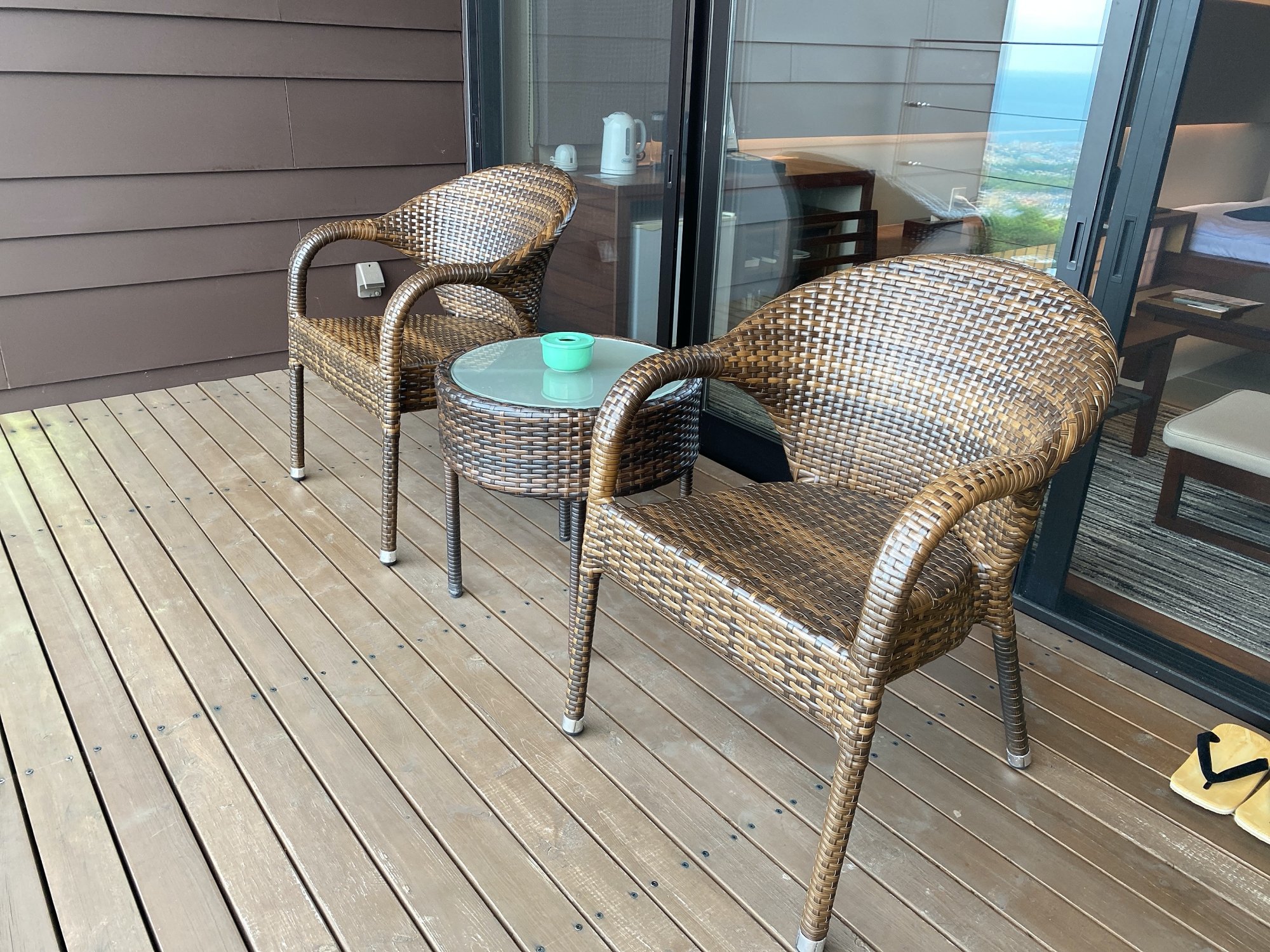 Every room comes with a lovely terrace and wooden deck. Come and lounge on these chairs while gazing in wonder at the marvelous Beppu scenery.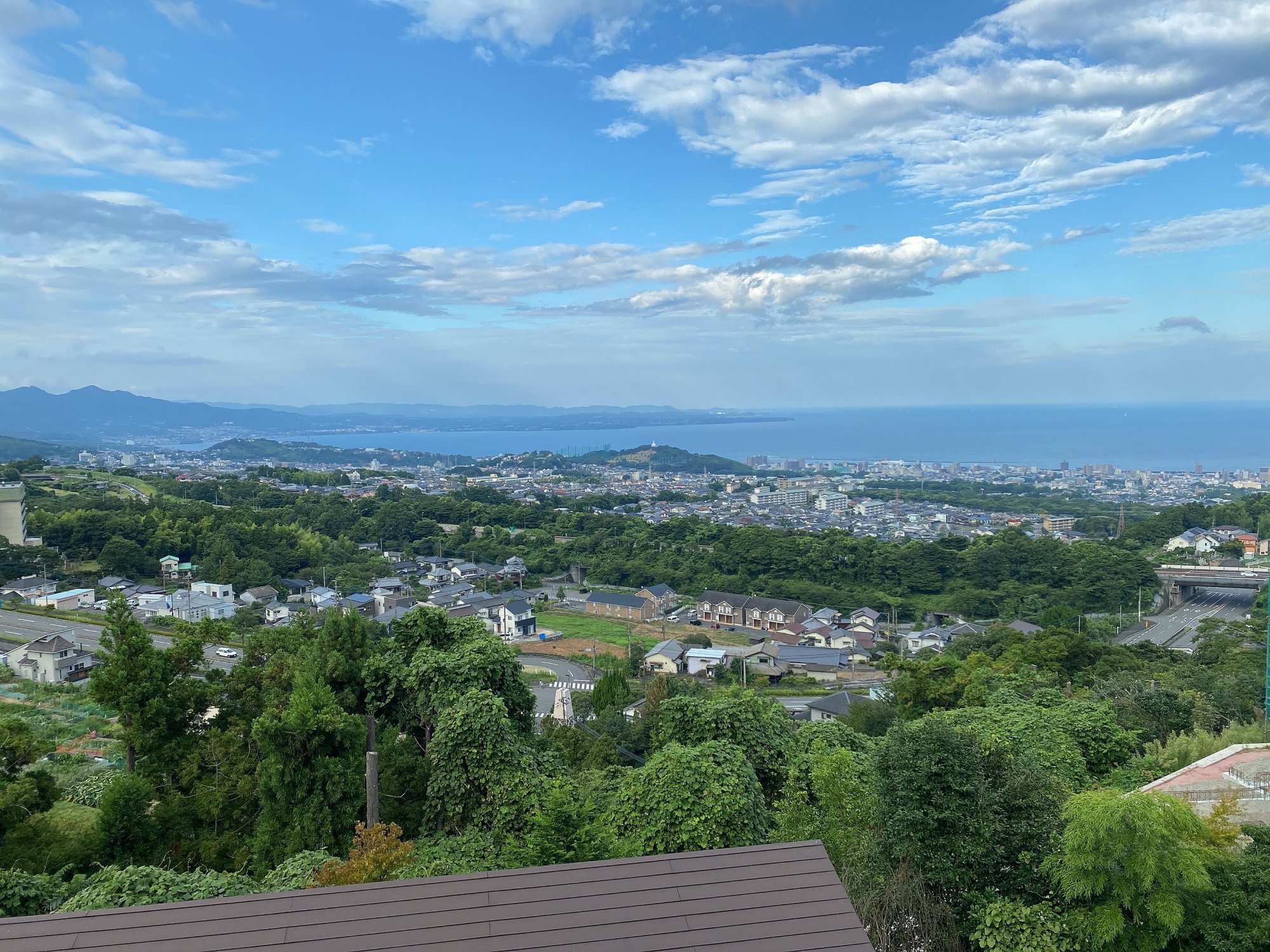 Pictured above is the beautiful view of Beppu Bay from the terrace. It feels like you could sit here forever, simply enjoying the pleasant breeze.
A Semi-Outdoor Bath with a Great View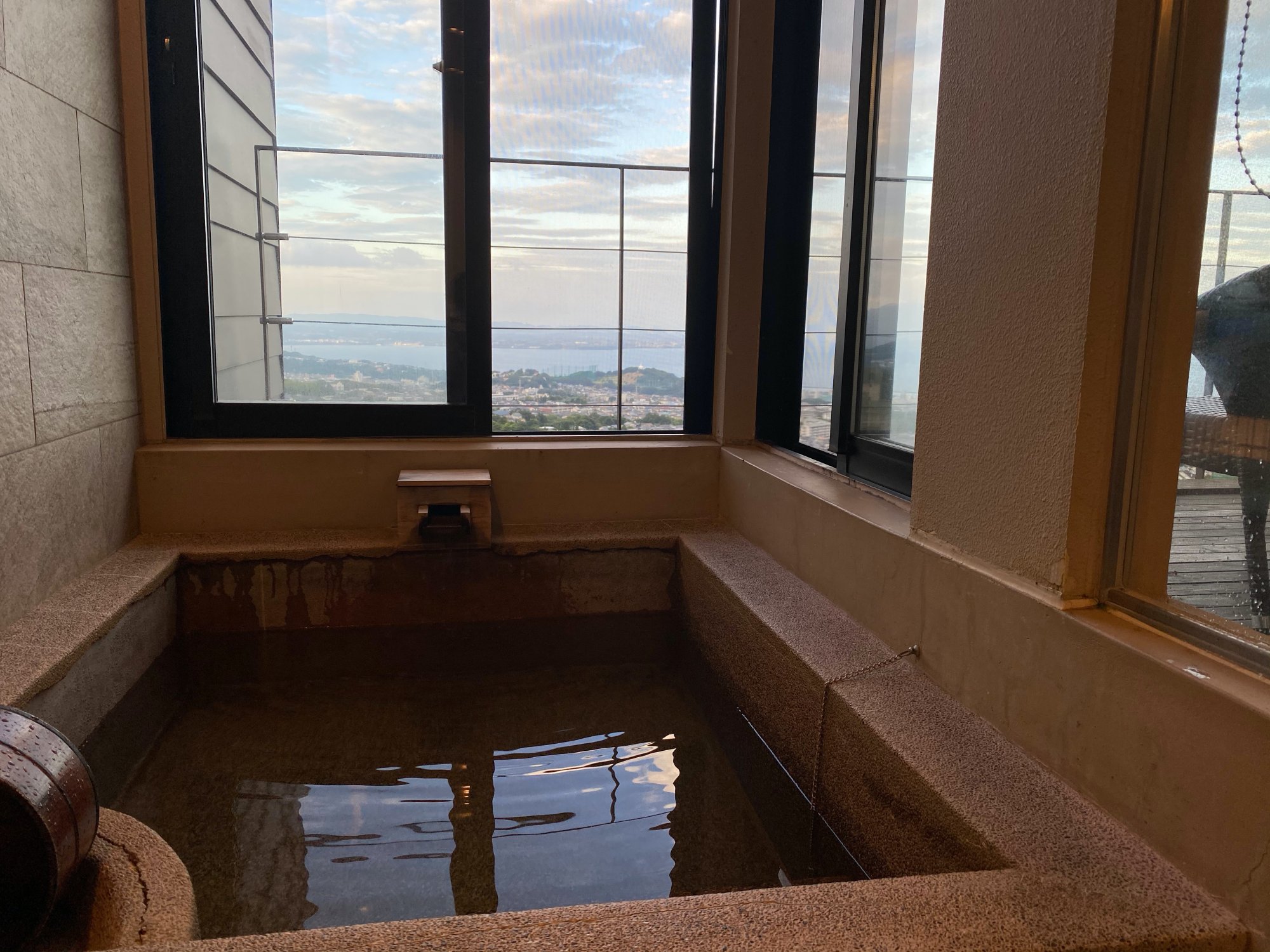 Every room is equipped with a hot spring bath. It's semi-outdoors, which means that guests have the option to open it up to the breeze or keep it closed. If you choose the former, you can enjoy the scent of cypress trees which drifts into the room. This creates a luxurious and relaxing atmosphere while you continue gazing over Beppu Bay.
Take Advantage of Remarkable Amenities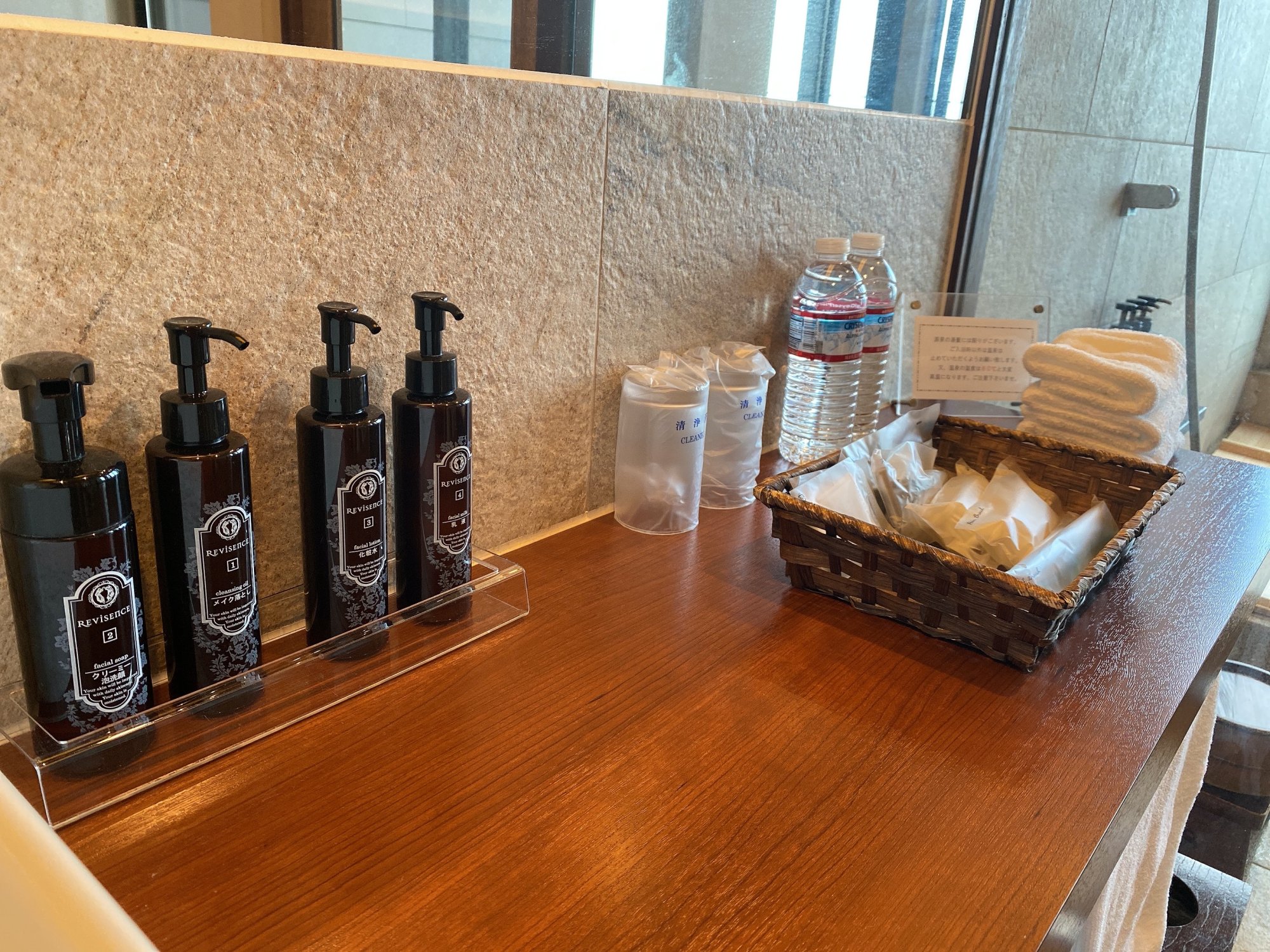 There's an impressive range of amenities in every room. Visitors can pamper themselves with body lotion, cleansing oil, and even a makeup remover.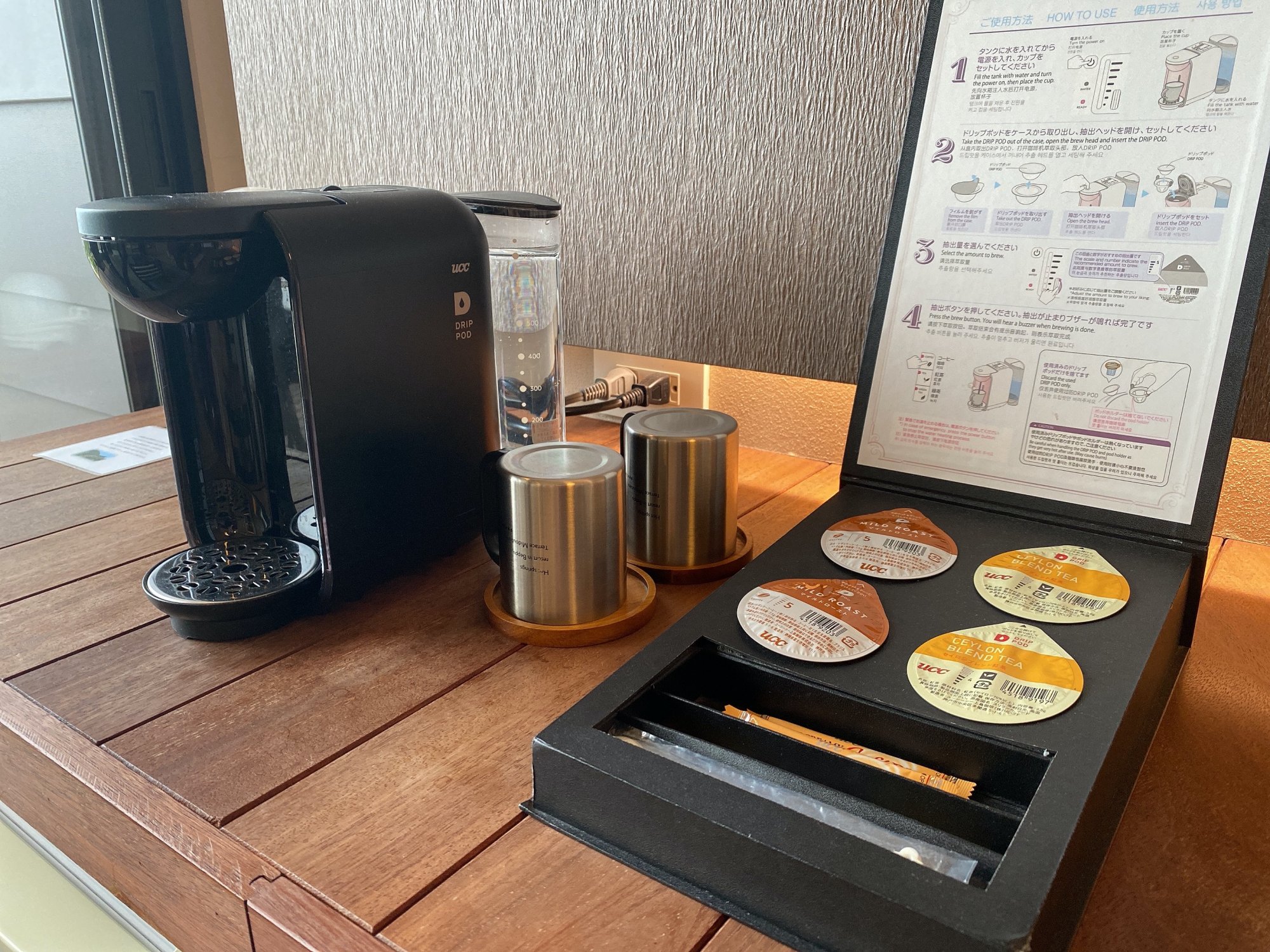 You'll also find a machine in the room that's helpful for making tea and coffee. This means that as you lounge, you can sip on your favorite hot beverage.
Delight in the Delicious Restaurant Food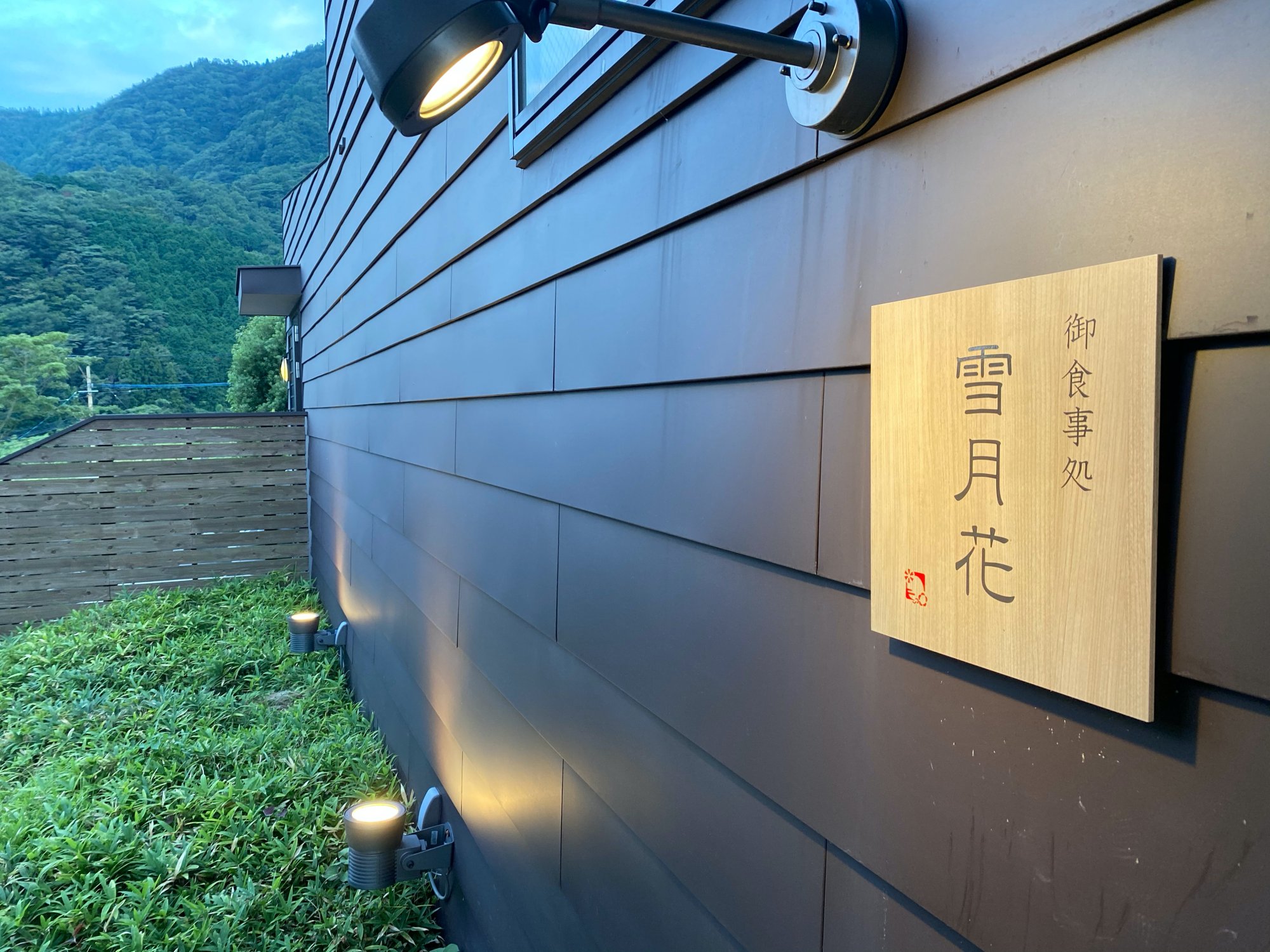 Dinner is available at the restaurant 'Yukigetsu Hana' at Terrace Midobaru. You can request a reservation at check-in.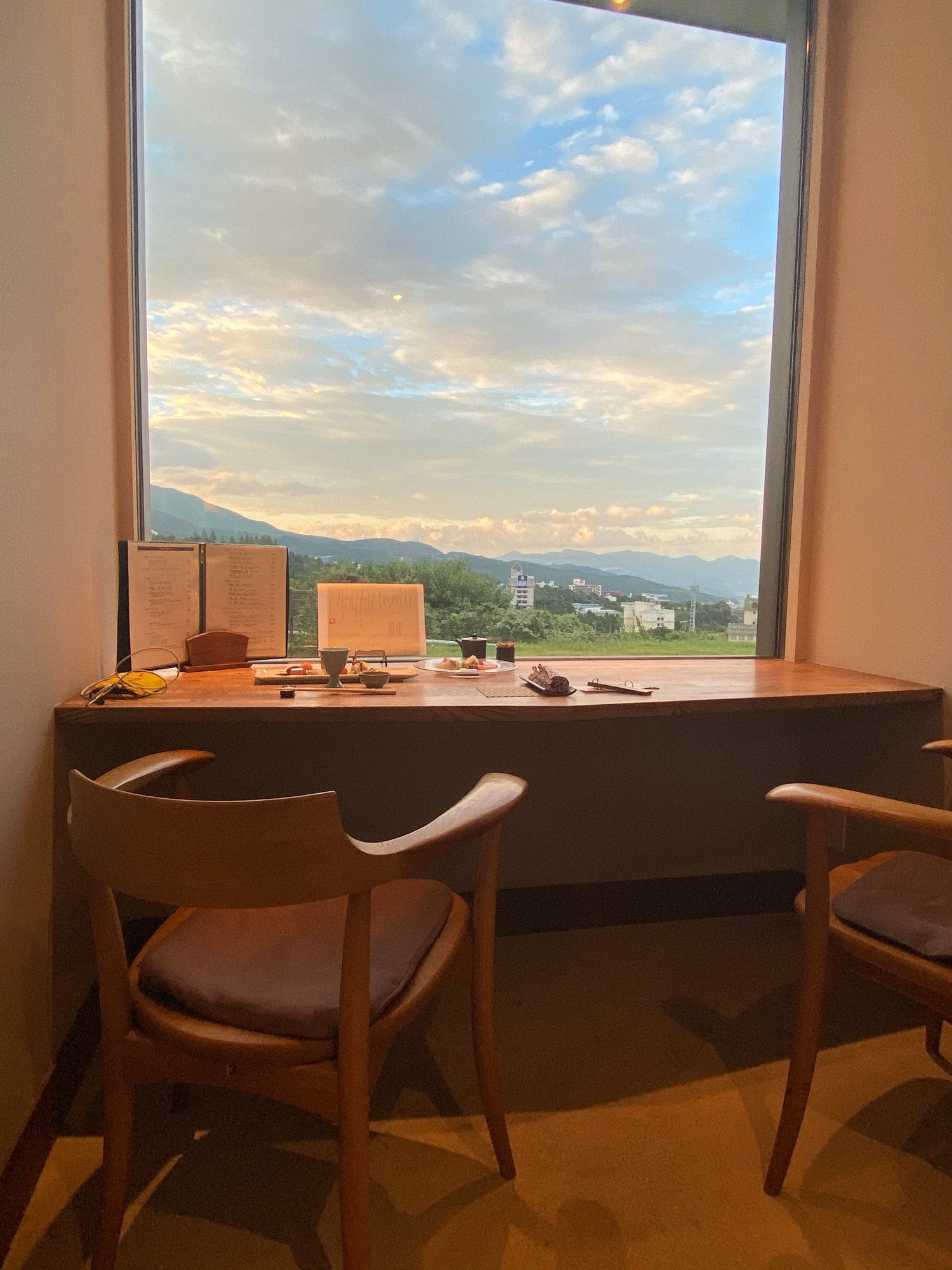 After entering the restaurant, you'll immediately be greeted by polite and attentive staff. There are many seats in the restaurant from which you can overlook the natural scenery surrounding the inn.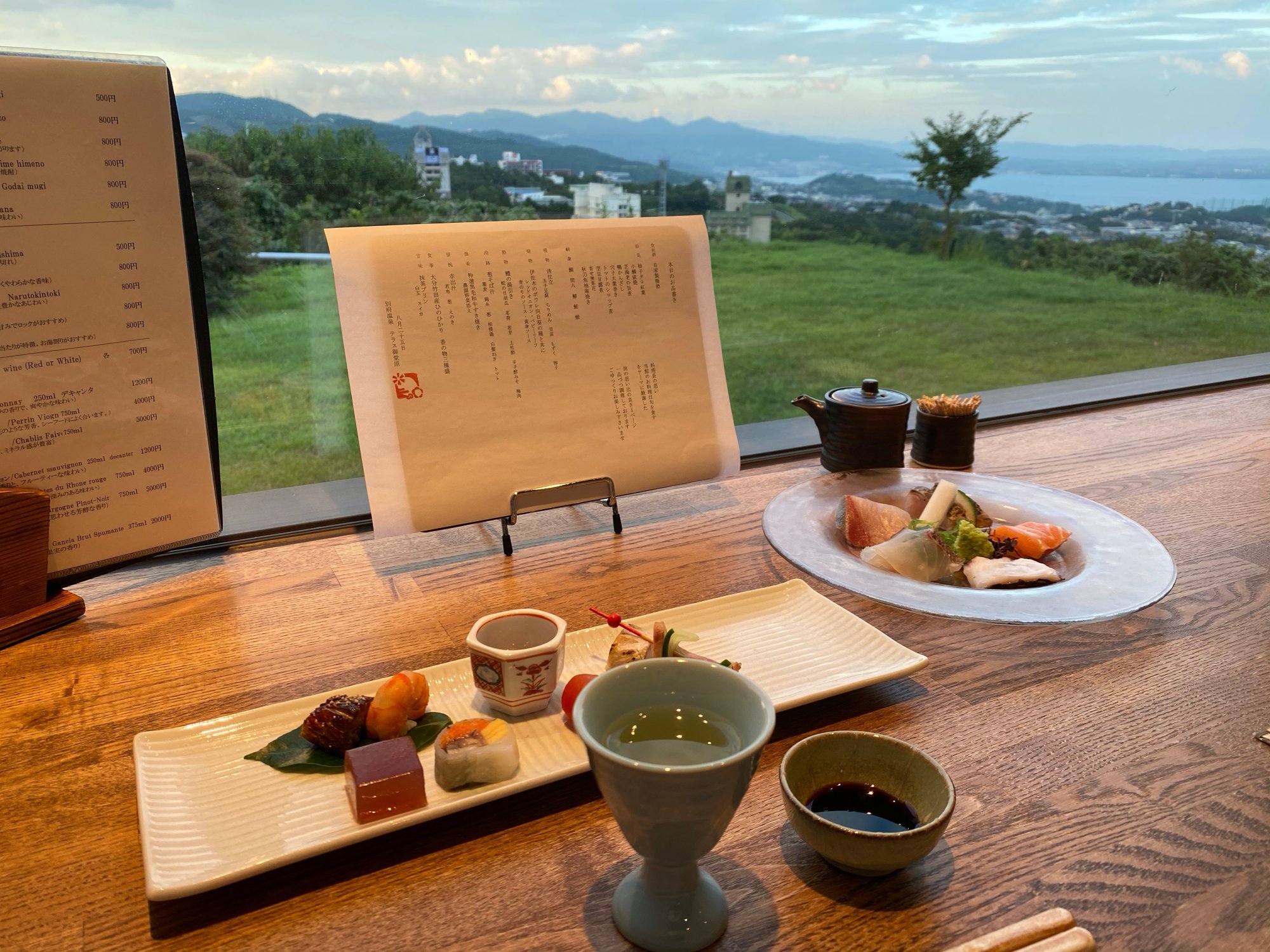 Pictured above is the restaurant's delicious appetizer.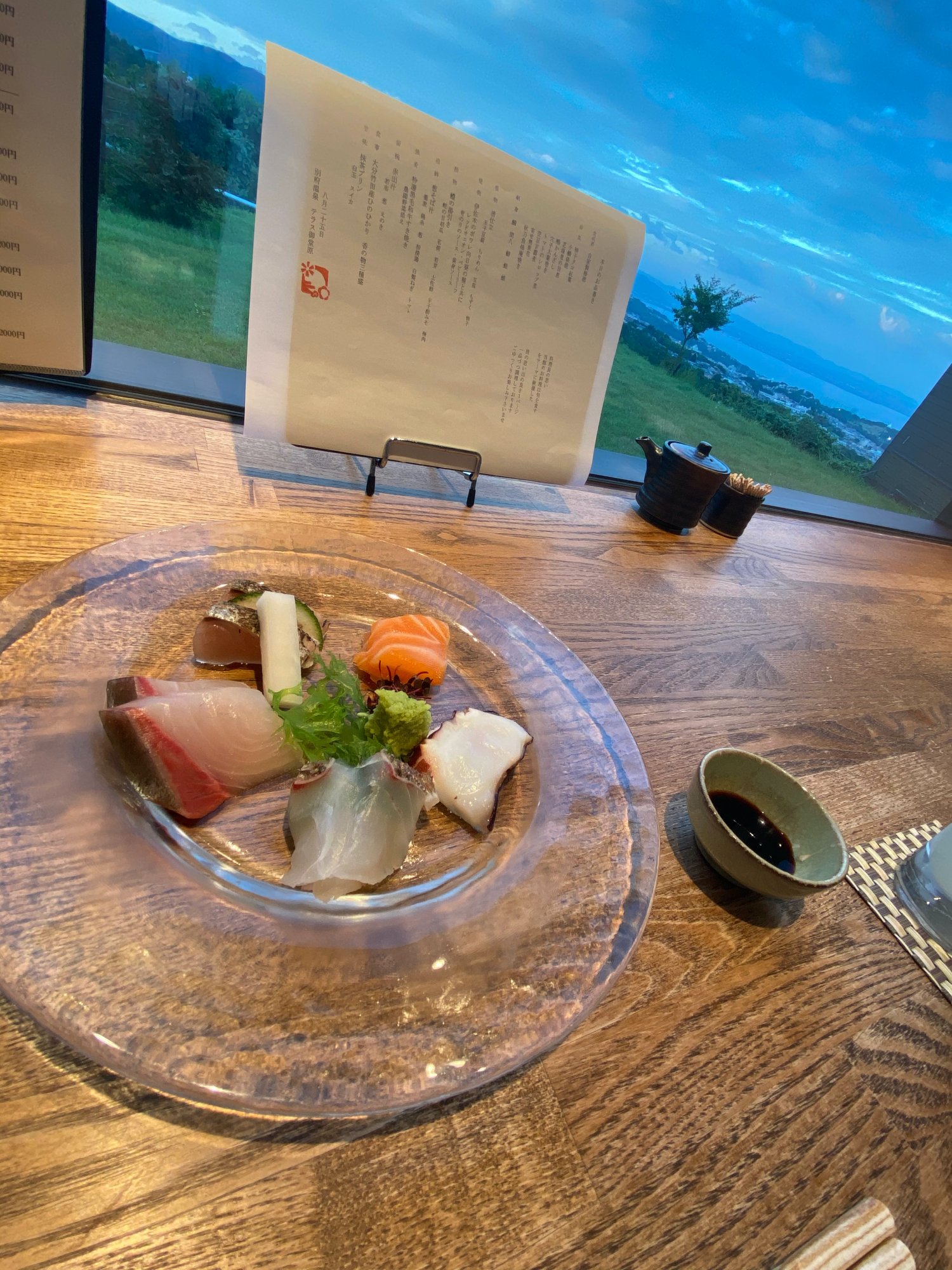 After your appetizer, enjoy some fresh sashimi sourced locally in Beppu.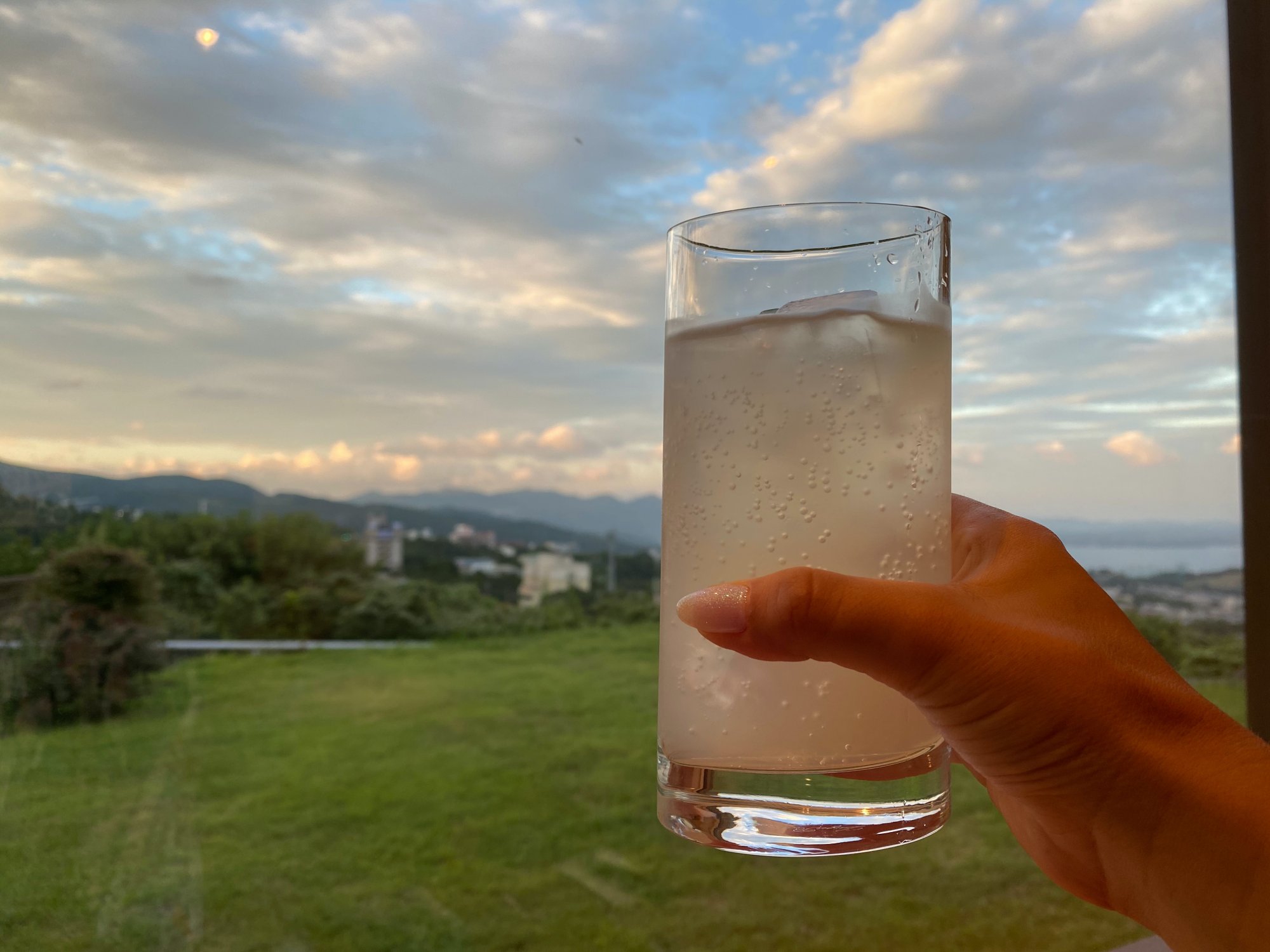 The Kabosu Highball cocktail is unique to Oita. Try this refreshing drink and make a toast to your wonderful, restful stay at Terrace Midobaru. It pairs spectacularly with your meal.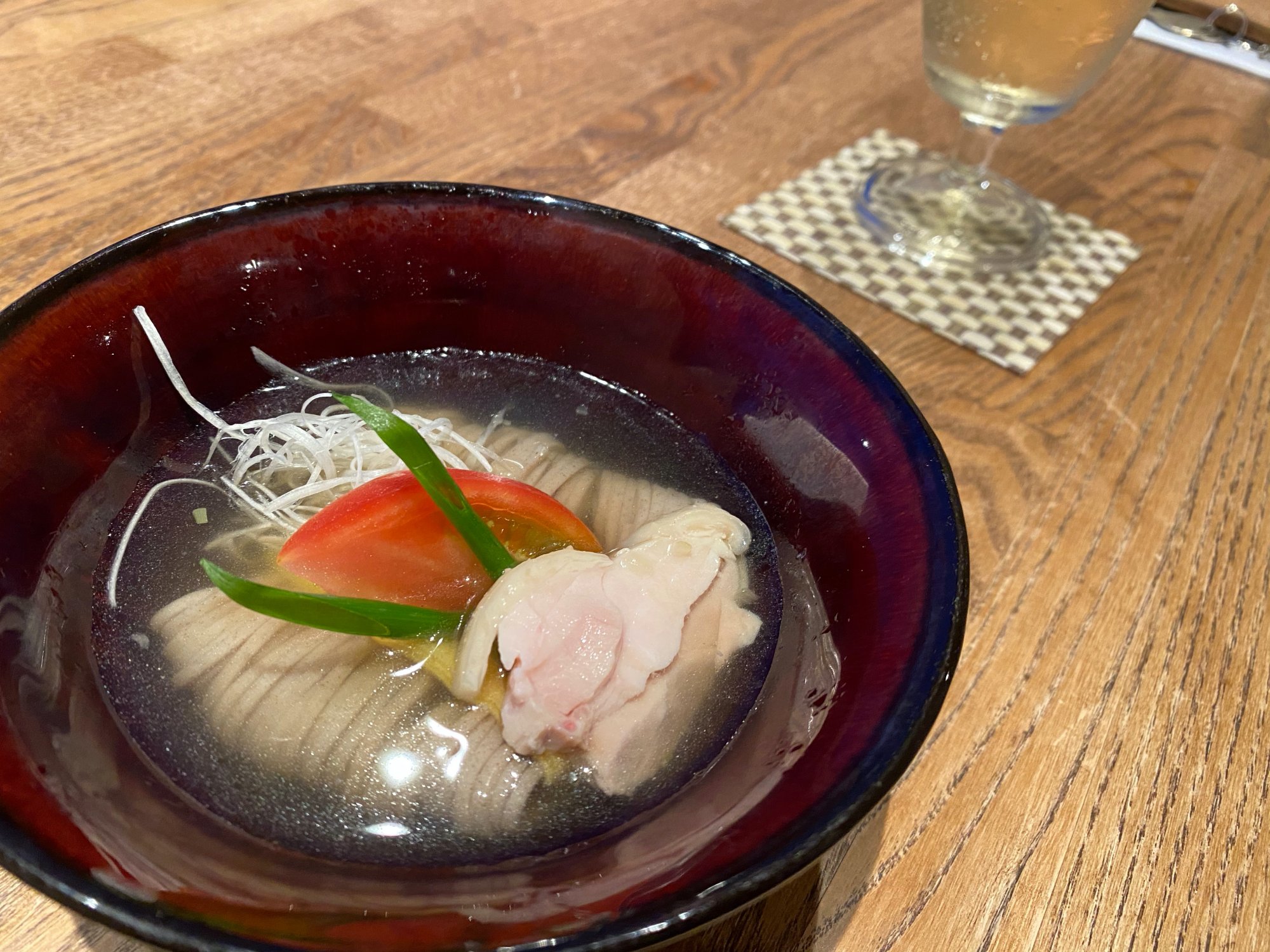 At dinner, you can also taste delicious soba and soup prepared by an extremely skilled gourmet chef.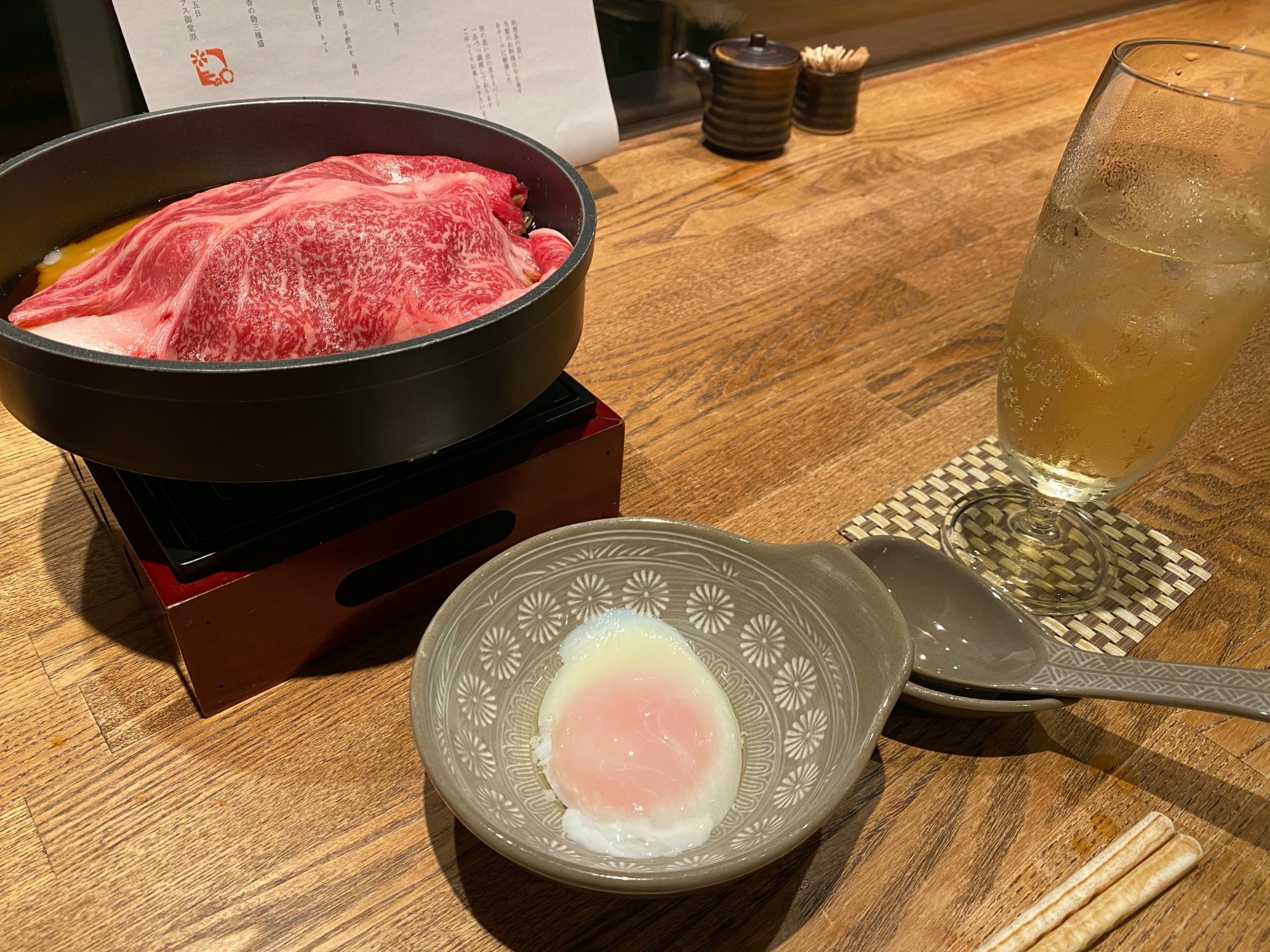 Your stay would not be complete without a taste of Sukiyaki, a famous Japanese black beef. Paired with hot spring eggs, it's the perfect dish for visitors in this hot spring town.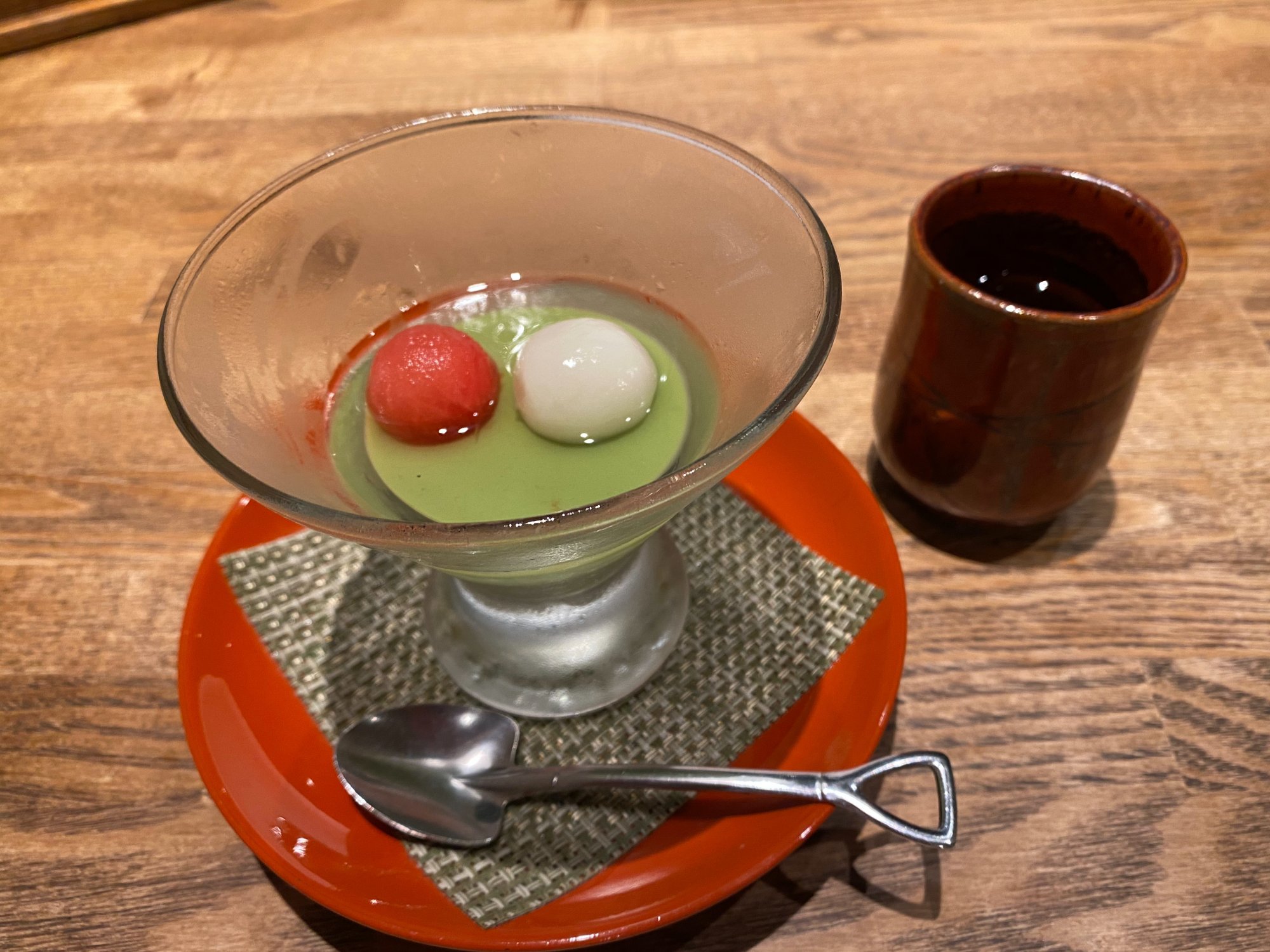 This exquisite dessert consists of watermelon and shiratama matcha pudding. With a light and fluffy texture, it gives you a dash of sweetness without being overwhelming.
Relax and Rejuvenate in a Communal Hot Spring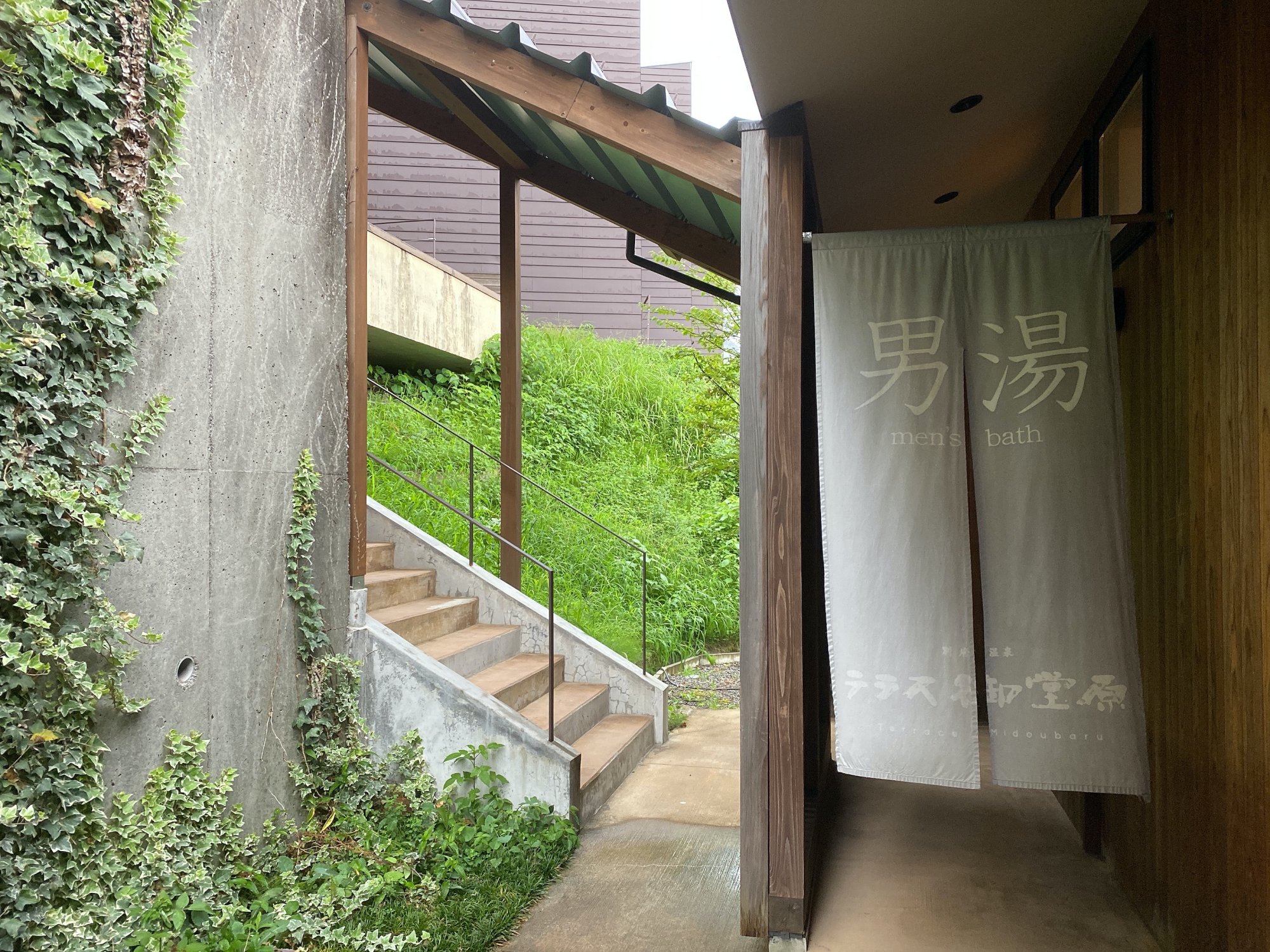 In addition to your room's semi-outdoor bath, Terrace Midobaru also offers a large communal bath to all visitors. Here, you can enjoy the famous hot springs of Beppu Onsen while in the company of friends in a spacious tub.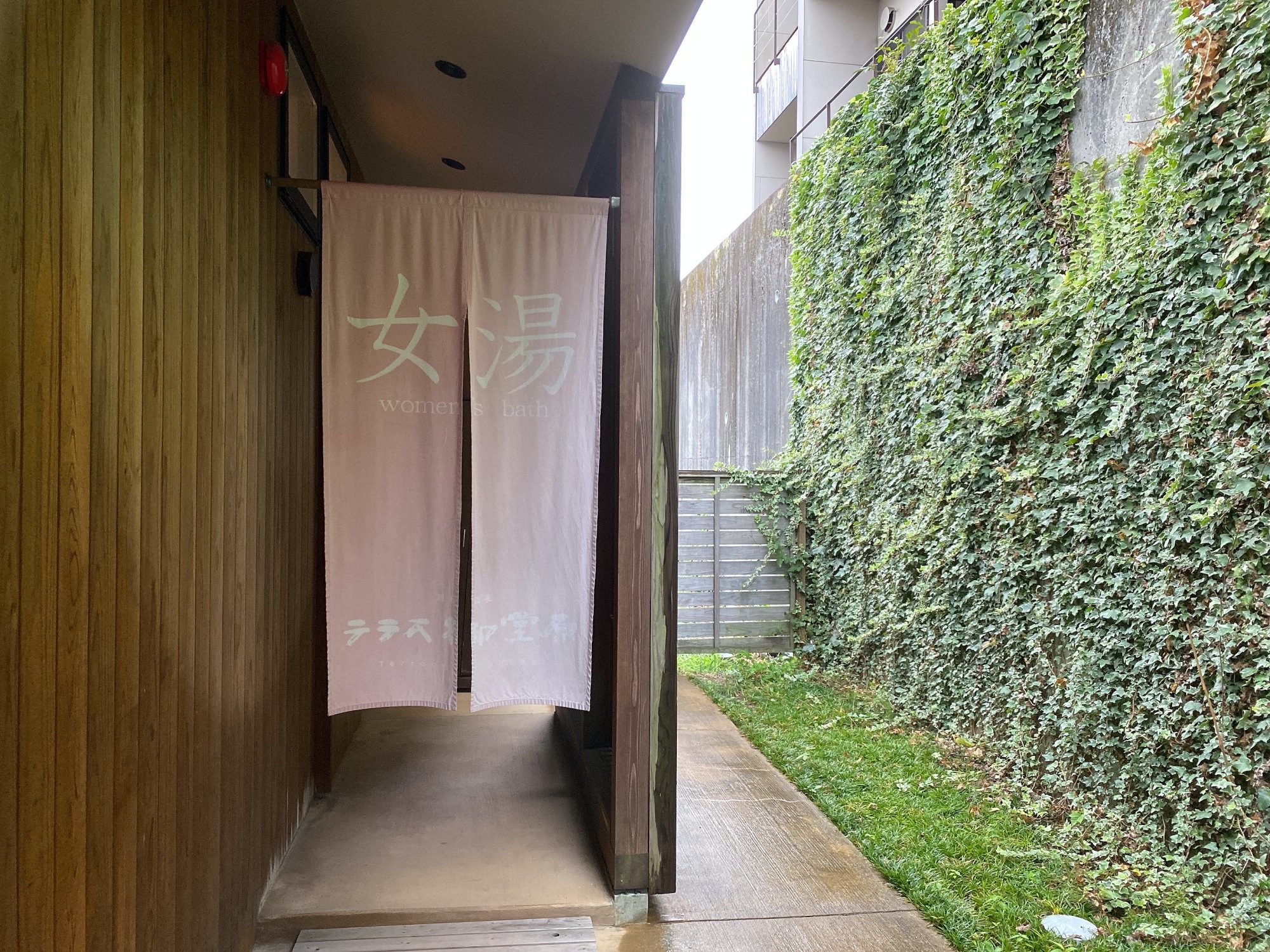 It should be noted that at present (August 2020), only three people can be in the communal bath at a single time. This precaution has been implemented to prevent exposure to the coronavirus.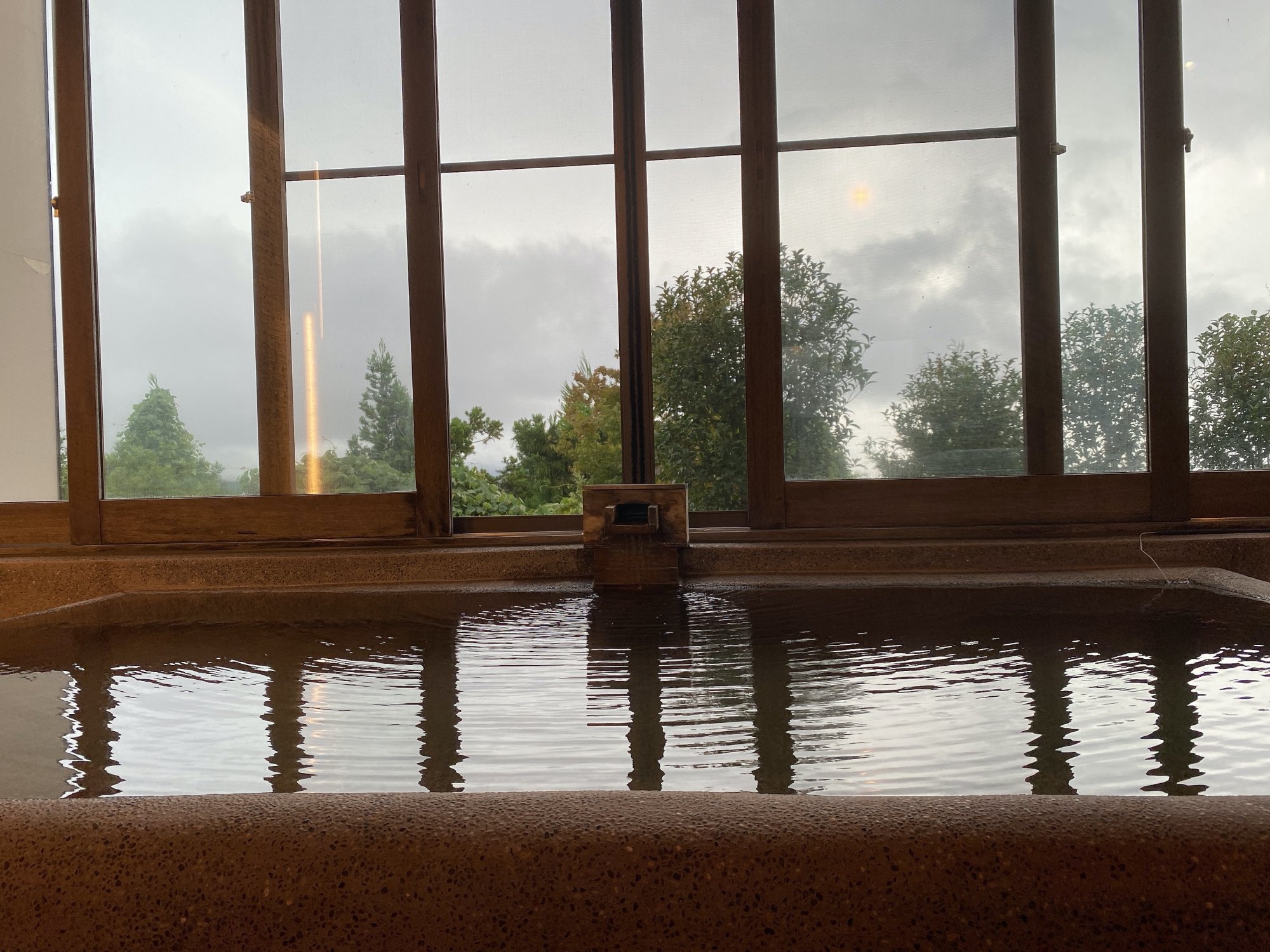 It was a cloudy day when Travel Beppu visited the communal bath, but the view of Beppu Bay was still very beautiful. The water in the bath is the perfect temperature – not too hot, but just right.
People with dry skin will make the pleasant discovery that there's no need to apply lotion after stepping out of this hot spring. Your skin will remain hydrated and moist from the hot spring's heat and minerals.
Exceptional Morning Views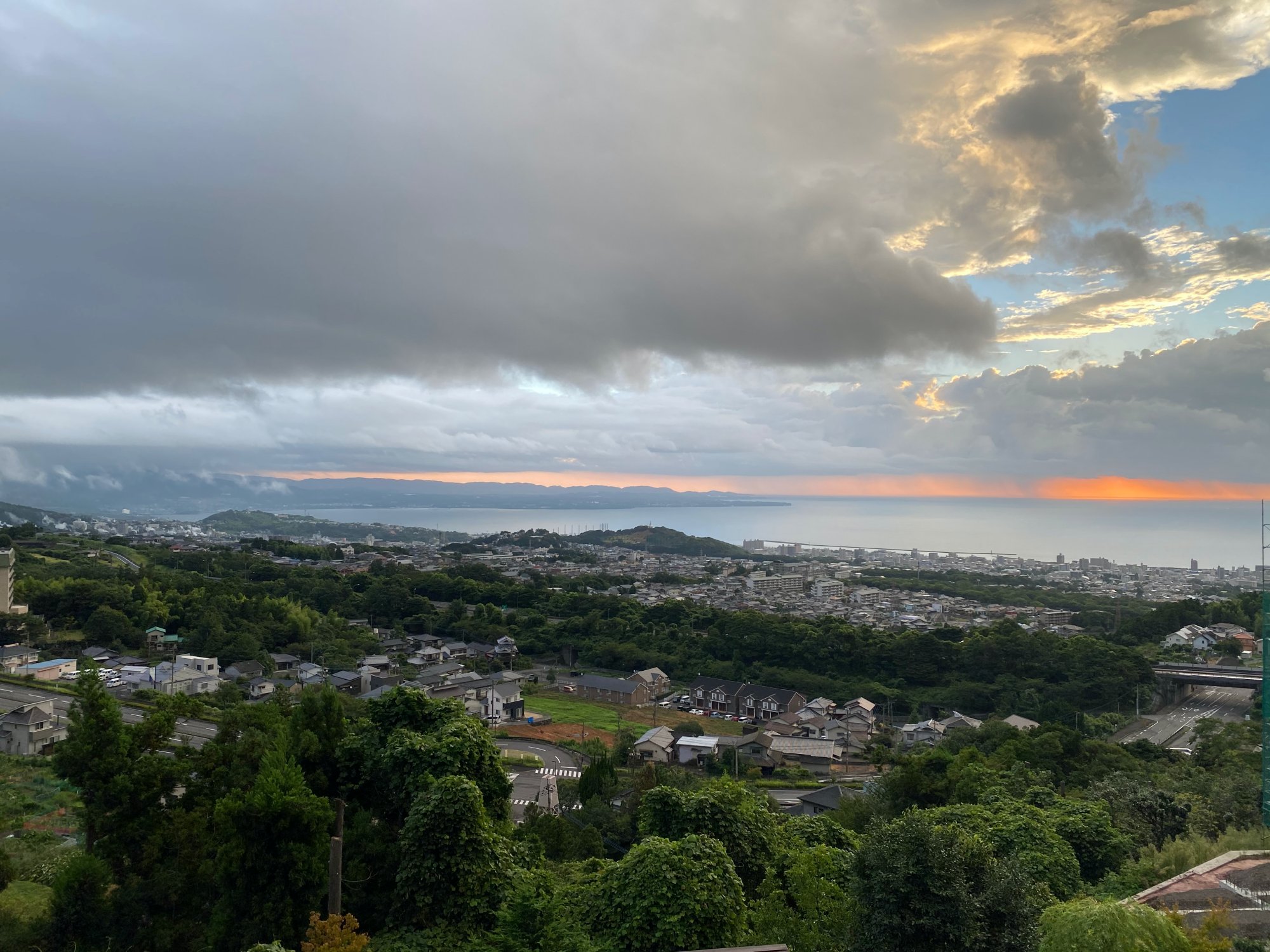 I got up early the next day and admired the beautiful view of the morning sun over Beppu Bay. The clouds were tinged with a streak of orange and in the mountains, the fog appeared to glimmer and glow.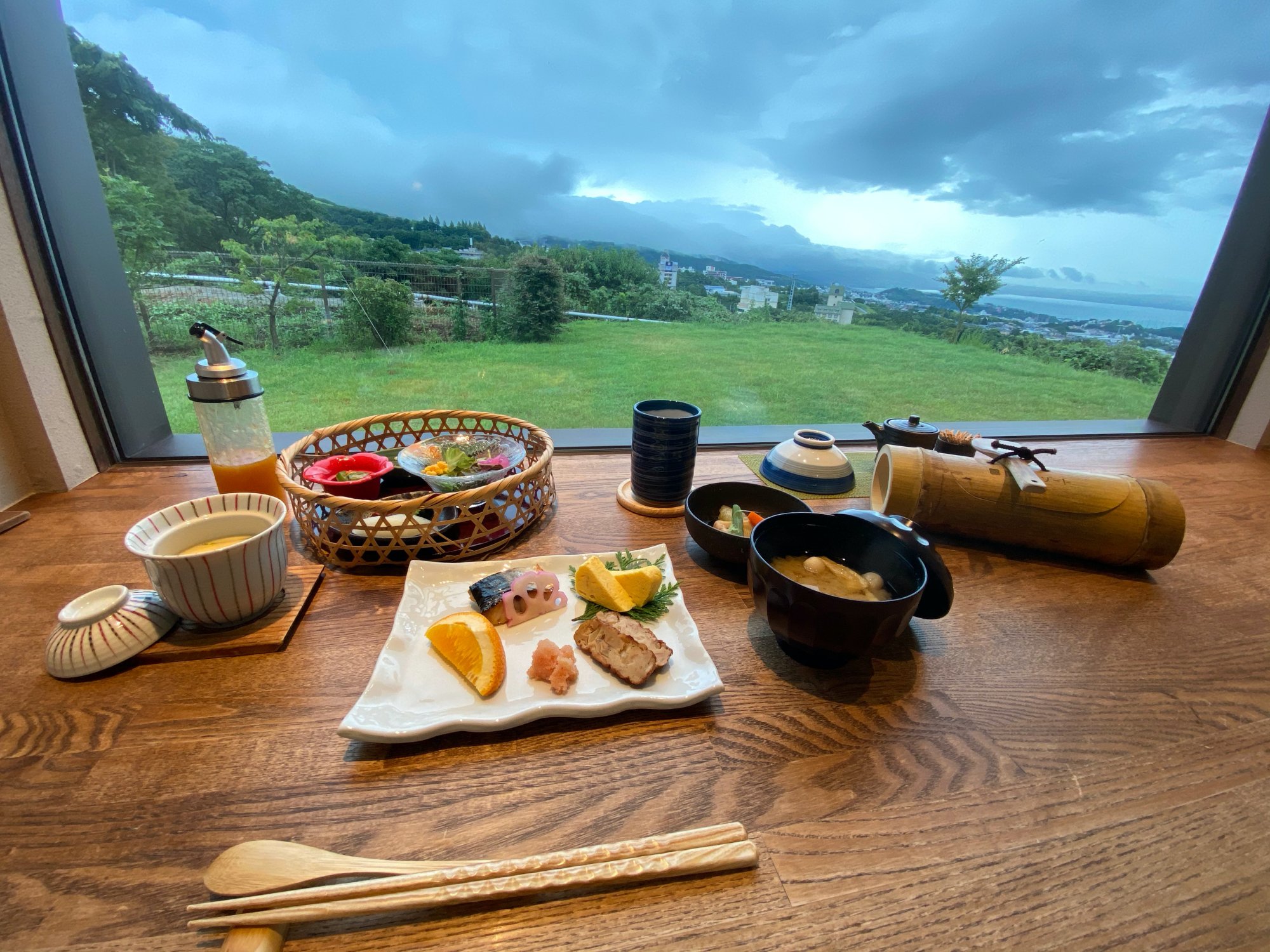 For breakfast, I chose the same seat that I sat in for dinner the night before. The amount of food was perfect – and so was the view.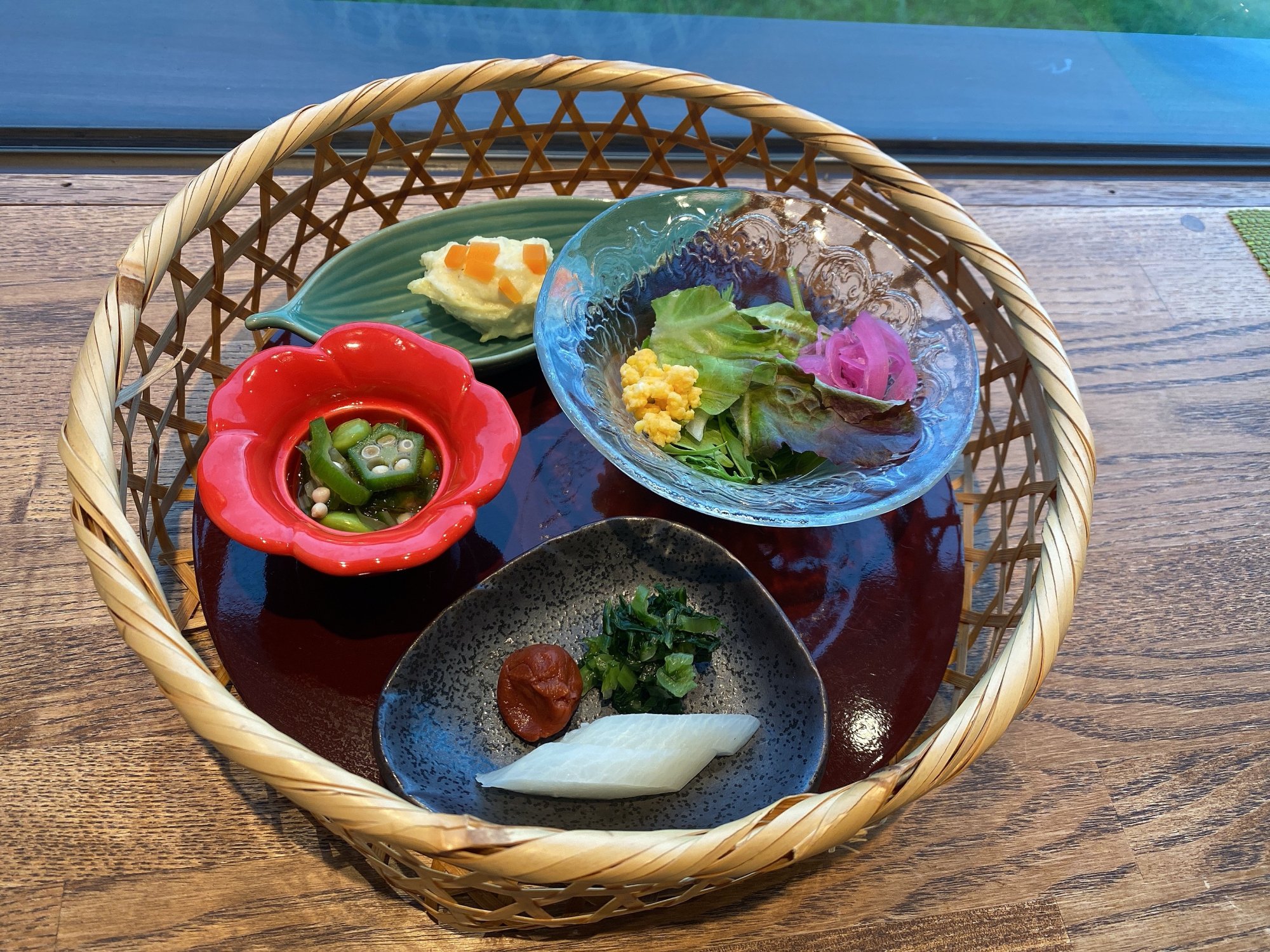 Expect delicious, healthy meals at Terrace Midobaru. Most of the menu consists of vegetables, fish, and other traditional Japanese food. Every meal is served in an aesthetically pleasing display such as the one pictured above. It makes for a great photo.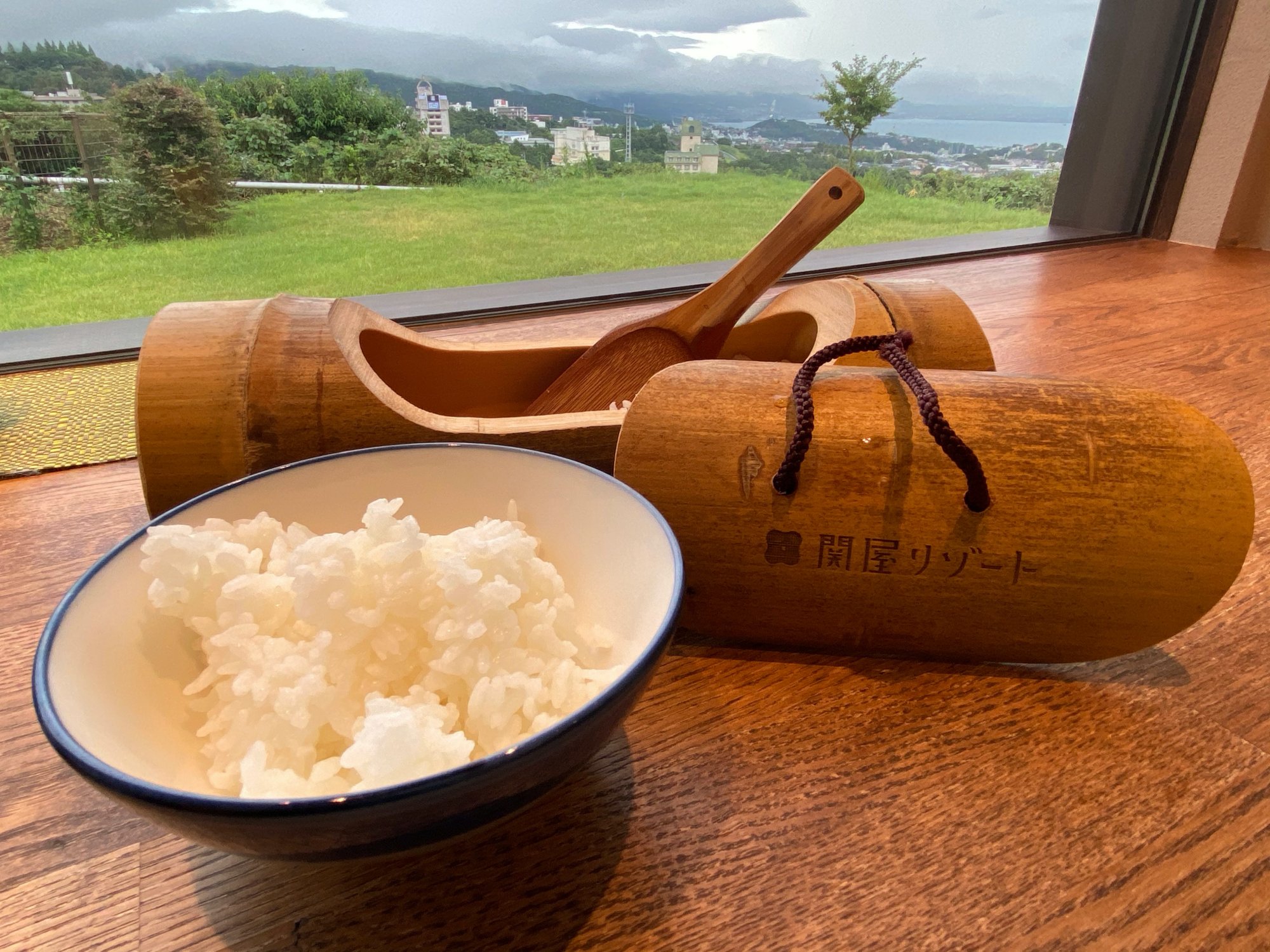 Rice is served in a charming bamboo container. Indeed, every step of the meal is pleasing to the eye.
A Comfortable, High-Quality Inn with Attentive Hospitality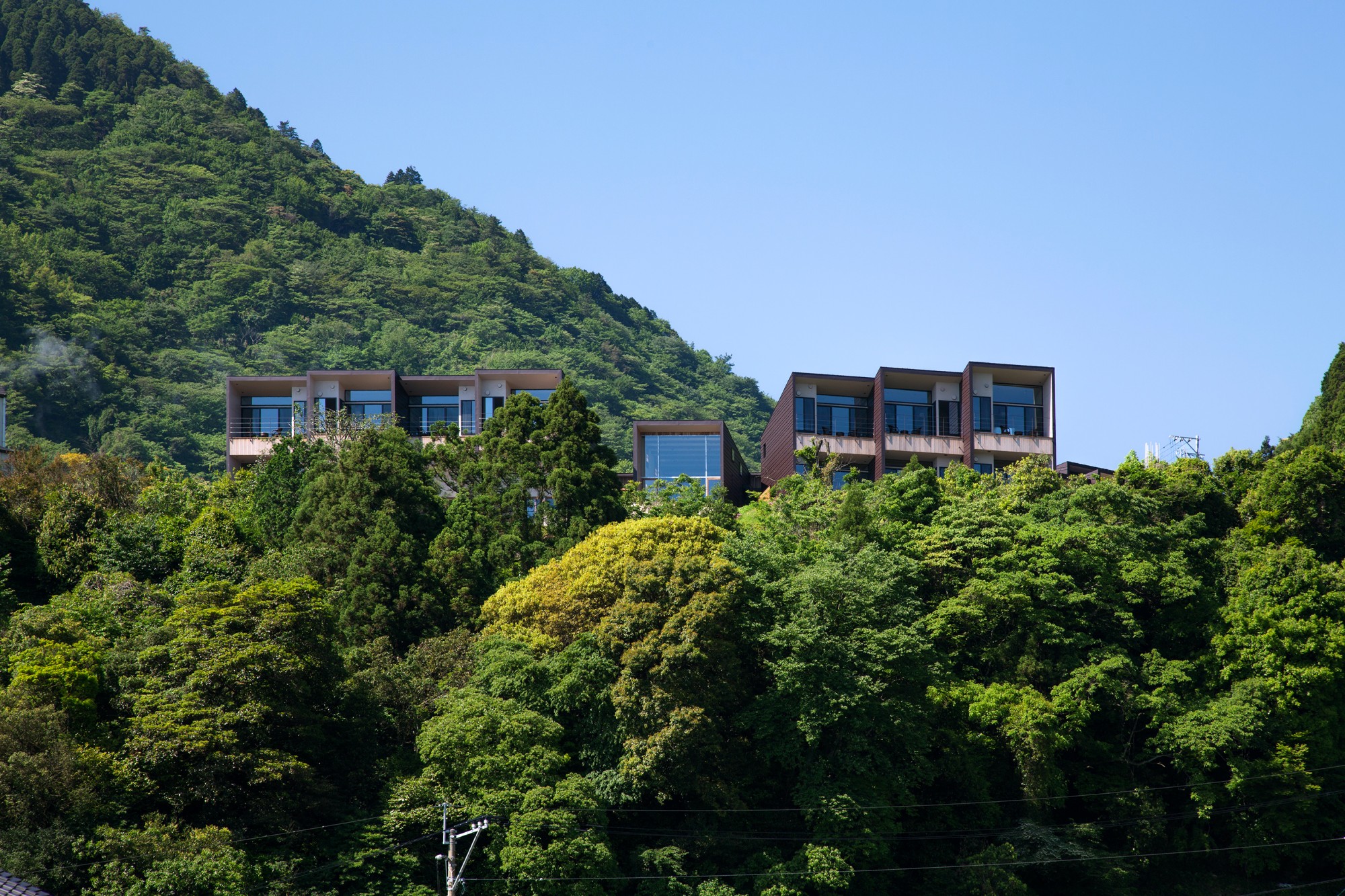 Travel Beppu's stay at Terrace Midobaru was extremely pleasant and we were particularly impressed  by the incredible hospitality. Every member of staff was attentive and detail-oriented. At the time of check-in, staff politely introduced the hotel and helped to navigate the rooms. Every guest is made to feel welcome and at home. They can also speak English, which is helpful for travelers visiting from overseas.
If you're considering a relaxing trip to Beppu, why not stay at Terrace Midobaru and let your senses feel soothed? 
Visit the Terrace Midobaru Website Here
Comments are closed.